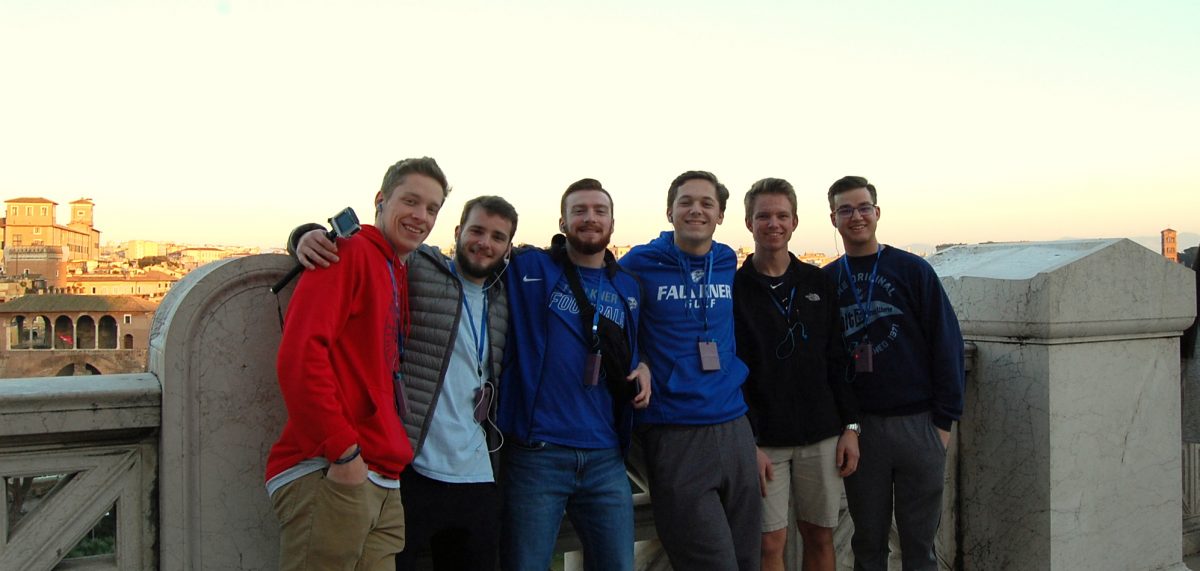 The aroma of freshly baked croissants and a friendly, "Ciao Sarah!" greeted Sarah-Elizabeth McGill almost every morning last semester on her way to class.
McGill wasn't heading to a typical classroom. She was one of 33 Faulkner students who chose to study in Italy's quaint Northern Province with Faulkner's Study Abroad program. It was one of the university's largest study abroad groups to date.
A junior English major, McGill jumped at the opportunity to study and travel to the places she and her mother had dreamed of visiting.
A three-month program, Faulkner's Study Abroad takes students on a journey across the world as they venture through Italy, Greece, Israel and more, following the footsteps of Jesus and the Apostle Paul.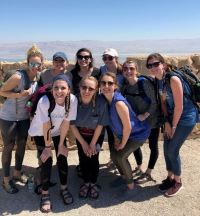 Imagine, instead of a studying within the confines of four walls, a bright blue sky is your ceiling and magnificent, centuries old architecture surrounds you. Locals wander the cobblestone streets to buy creamy gelato from a street vendor or browse the marketplace wares.
"Greece was probably my favorite place," McGilil said. "I've always wanted to go to Athens and see the Parthenon, so when I actually got to stand in front of it, it was a dream come true. I loved seeing the monasteries and convents in Meteora, but I also just loved the history within Athens."
McGill invited her mother to join her on an excursion through Italy, during the program's free week. It was a dream come true for the pair, McGill said.
"Getting to see parts of the world used to be something I had only dreamed about," McGill said.
A typical day for the students began with chapel in an Italian church, followed by class with Dr. Terry Edwards, professor of Bible and Humanities and program director who covered "The Steps of the Apostles" and then Italian studies where they learned some of the Italian language and history.
Edwards made sure students felt like they were Italians while living in the country for over two months. Not only did it help students become comfortable living there, it helped keep them safe while traveling.
After lunch, students were free to explore the town or hop a train to Florence or Pisa before settling down to work on homework.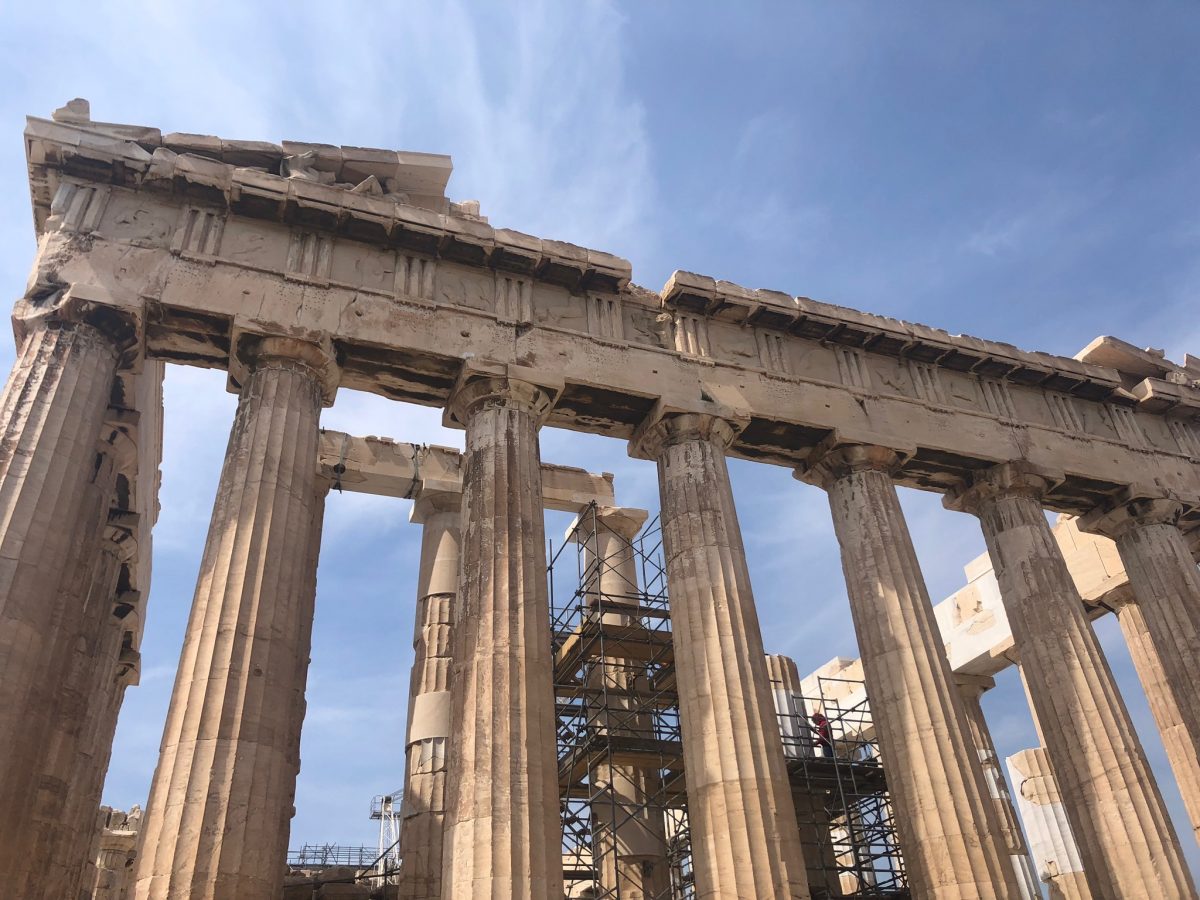 English major Calli Hunton decided to study abroad after a friend came back with exciting tales of time spent in Israel, seeing the Garden Tomb and the Sea of Galilee. Hutton knew those were things she had to see for herself.
"As an English major, that part of the world can be a dream come true," Hunton said. "Books, art, and architecture are what they worship, kind of how Americans love football. I would see monuments or places that I had learned about in my classes, and for me that really helped bring to life what I was being tested on."
"The students who come on Faulkner's Study Abroad program are truly changed for life," Edwards said. "I can teach in a typical classroom, but my favorite classroom to teach in is on the road because that's where everything makes sense. When you're on Mars Hill, suddenly Paul's epistles come alive."
"Those bible stories come alive when you're in the Sea of Galilee and it's not just a story anymore, it's history about real places and real people and all that come crashing on you when you study abroad. Our study abroad program is unique in that we take a biblical approach. Your faith is challenged, it becomes your own and strengthened. You'll live this experience out the rest of your life."
Exploration, fun, and discovery are the components of a successful study abroad trip and those who had a chance to experience the program at Faulkner were not disappointed. Most importantly, those who travel on Faulkner's program felt safe and confident while traveling.
"Everywhere we went I felt like our safety was the top priority of Dr. Edwards. They wanted to make sure that we had fun, but that we were also safe," McGill said.
Students who participate in the program are accompanied by and taught by Faulkner University faculty and are housed on a private campus in Tuscany (Montecatini Terme,) in a safe environment with easy access to Florence, Pisa and Siena.
Edwards speaks fluent Italian, having grown up in Italy, where his parents were missionaries. This helps him assist students while traveling and keep them as safe as possible. Part of their first month in Italy is spent training how to travel during their free days to England, Spain, Ireland and others. Their location while staying overseas is also important.
"We choose to rent out a hotel in a smaller town of only 30,000 people rather than a bigger city like Rome or Paris because our students can walk around town at night and be completely safe," Edwards said.
"We're also strategically located to two airports nearby and a train station just two blocks way for students to visit the beach or Pisa after class. We've hired drivers that we know and trust who are familiar with the area. Students are not allowed to travel alone and must go in twos or threes if we are not together as a group."
When Edwards took the group anywhere, he would do a quick tour of the town, select a central meeting point and tell them what time to meet back there. From there, they would separate into smaller groups and explore on their town. Edwards treated the students as if they were family.
"Every day he asked 'What can we do for you?' Anything we needed he would help whether it was medicine, to calm us down, or just to talk," McGill said.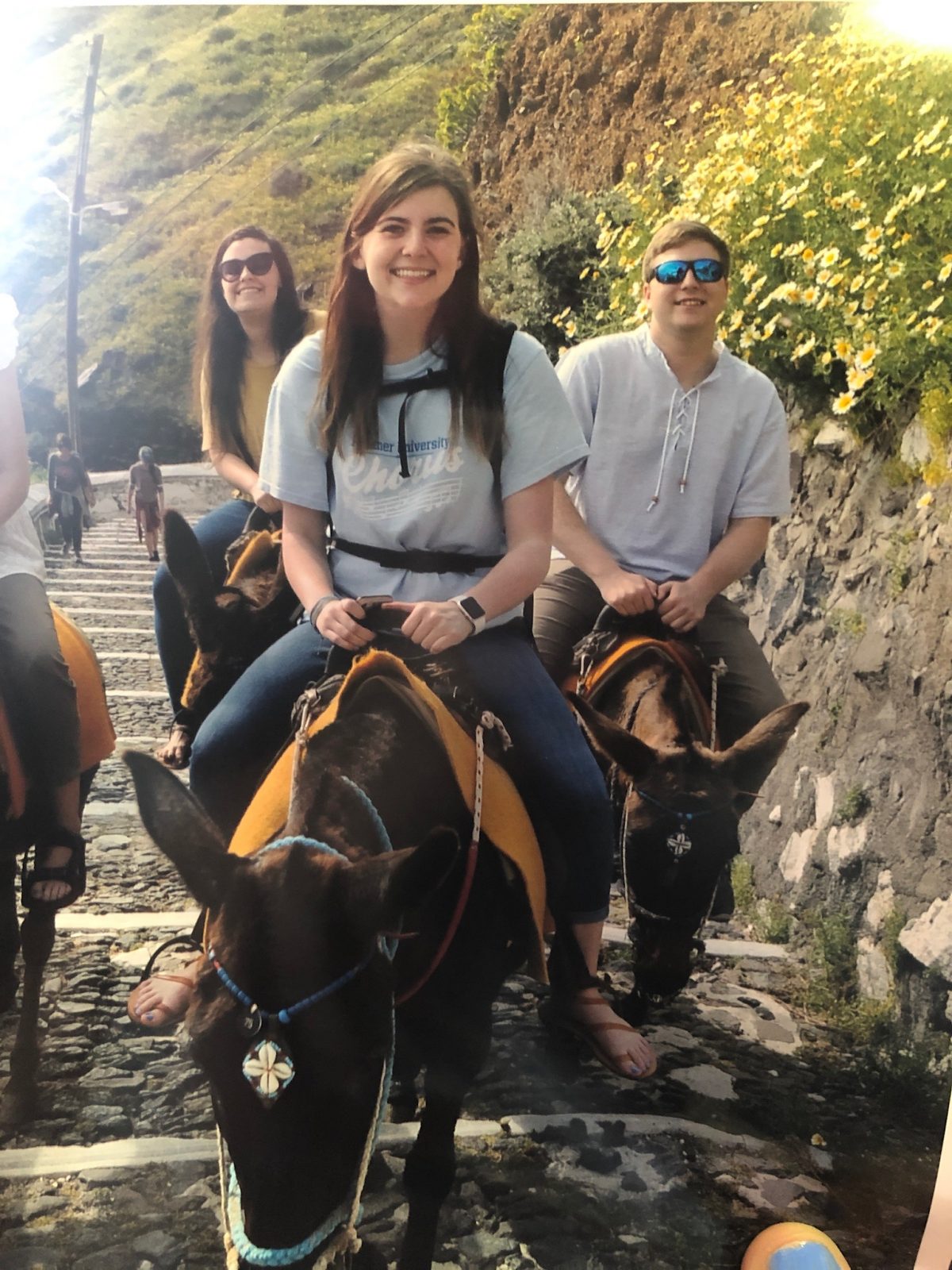 The program is open to all majors. All meals are included in the cost of the program expect during those free travel times. Edwards arranges for their own Italian chef to prepare all the meals in-house for the duration of their stay providing them with four authentic full-course meals a day. The freshly made pasta at each meal was a huge favorite for several of the students. The cost also includes room and board, the flight to Florence and back, an 8-day group trip to Israel, a four-day cruise, a group trip to Greece, day trips to Rome, Pompeii, Florence, Venice and Siena and local transportation through Italy.
The group also visited and sang with diverse congregations of believers in Italy, Greece and Israel and explored Rome, Cinque Terre, Pisa, Florence, Pompeii, and Venice. Outside of Italy, some visited Ireland, Paris, and London, while the group together went to Israel, Turkey, and Greece. Total, they visited 18 cities, 8 countries, 3 continents.
"It was an opportunity to completely immerse yourself in another culture and to learn how other people do life. It opens your eyes up to the different types of people there are in the world. Also you get to eat some amazing food," McGill said.
"Study Abroad helped me to grow as a person, but also to grow more in my relationship with Christ. Traveling to Israel and seeing the places where Jesus walked, I can't read my Bible the same way. The trip to Israel caused my Bible to come alive. It was incredible. Study Abroad is an experience that I will never forget. I missed my family and friends like crazy, but it was so worth it!"
"The part that I enjoyed most was the knowledge I gained from it," Hunton said. "I don't mean school, but with culture. We were blessed enough to go to two different Churches of Christ while there. One was in Athens and one was in Florence. That experience alone was one that made the entire journey worth it. Being able to meet other people who love the Lord in a country that seems so foreign is amazing. The churches we visited, along with the entire trip to Jerusalem were amazing."
More than 20 students have already signed up for 2020's trip, but slots are still available to go in 2021. The Faulkner Study Abroad program is offered in the spring of each year. Edwards has directed university study abroad programs for more than forty years and has worked with Faulkner's program since he was hired in 2015.