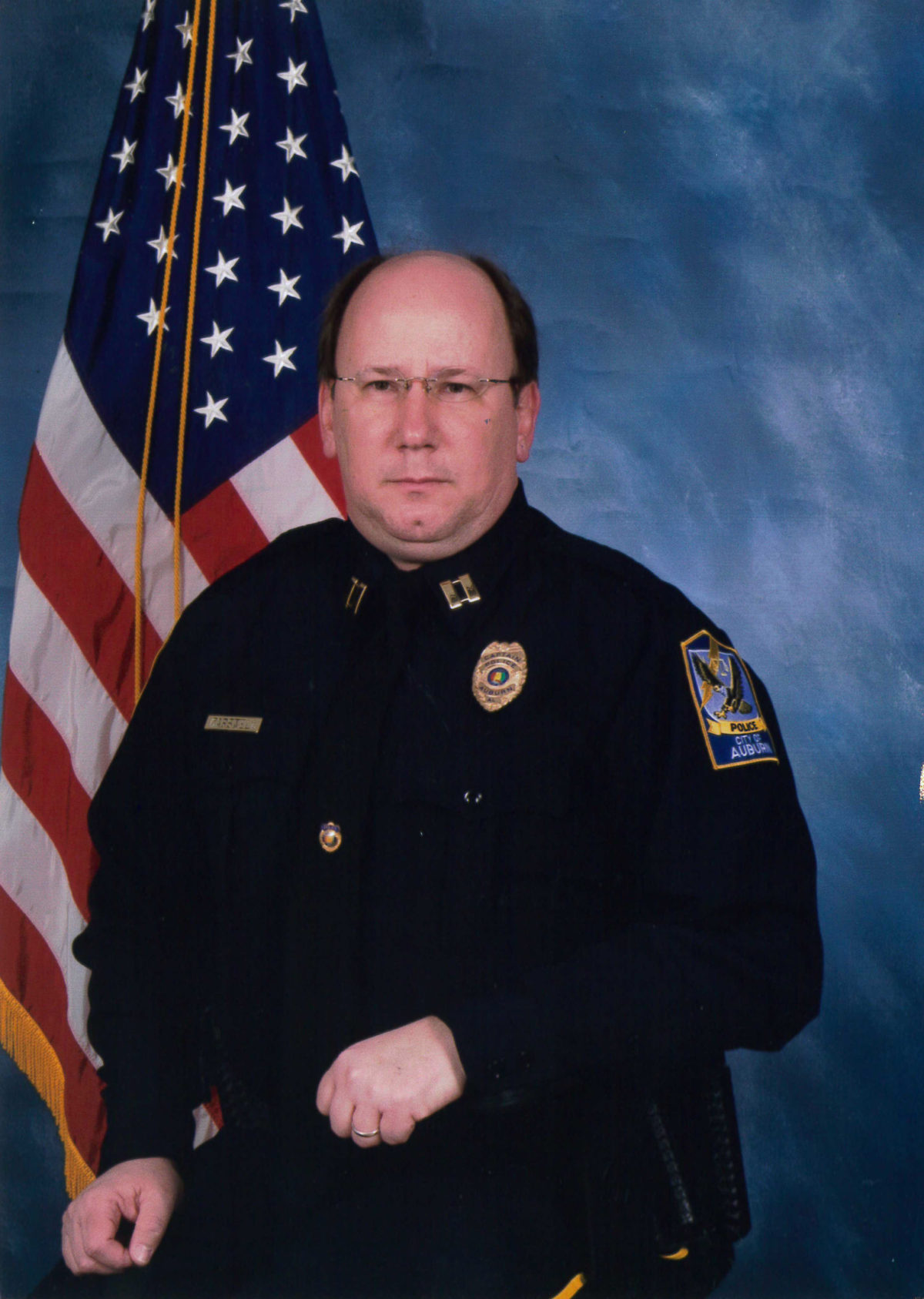 Tommy Carswell not only graduated from Faulkner University's BCJ program, he is among the first to graduate from Faulkner's Master of Science in Justice Administration (MJA) course. He also graduated from Columbus (Georgia) State University and their Georgia Law Enforcement Command College with a masters degree in public administration. He began instructing Faulkner University courses in 2005.
Carswell retired in March 2016 from the Auburn Police Department (ADP) as a captain and was responsible for their Administrative Operations section. He began his career in 1981 working for the Lee County Sheriff 's Department, as a deputy jailer. Carswell would go on to work a variety of assignments that include communications, child support enforcement, patrol, investigations, field training officer, vice and drug investigations, and bike patrol. Other duties included Auburn University liaison, internal affairs investigations, and managing their promotion process.
He was recently honored at Faulkner's 2023 Marketplace Faith Friday Forums as the Distinguished Alumnus for the College of Arts and Sciences' Criminal Justice and Legal Studies department.
"I enjoyed every minute that I was a student at Faulkner University. When the Chief, Assistant Chief, and existing Captains were debating our promotions, I was told that the Chief said that I was the one who had worked for it, meaning that I had gotten the education that I was asked to get when I started working at APD," Carswell said. "Further, as a student I was invited onto the Board of Directors of the Institute of Criminal Justice Education, founded by Lou Harris, Bob Thetford, and Roger Humber and I am still on the board today. Faulkner University allowed me to surround myself with good people and this was a credit to my career."
Today, Carswell works for the Lee County Emergency Communications District which is the 911 infrastructure for Lee County and the town of Opelika. He is the Chief Training Officer and teaches certification courses to Public Safety Telecommunicators. He also retained a part-time position at Auburn Police and instructs the City Court's defensive driving course.
"While at Faulkner, Dr. Lou Harris, Dr. Bob Thetford, Dr. Marci Johns and Dr. John Gray all passed their faith along to their students," Carwell said. "Faulkner University enhanced my faith and my faith became part of my profession. To me, faith and education are now synonymous and this is from attending not just any 'Christian University,' but from attending Faulkner University."