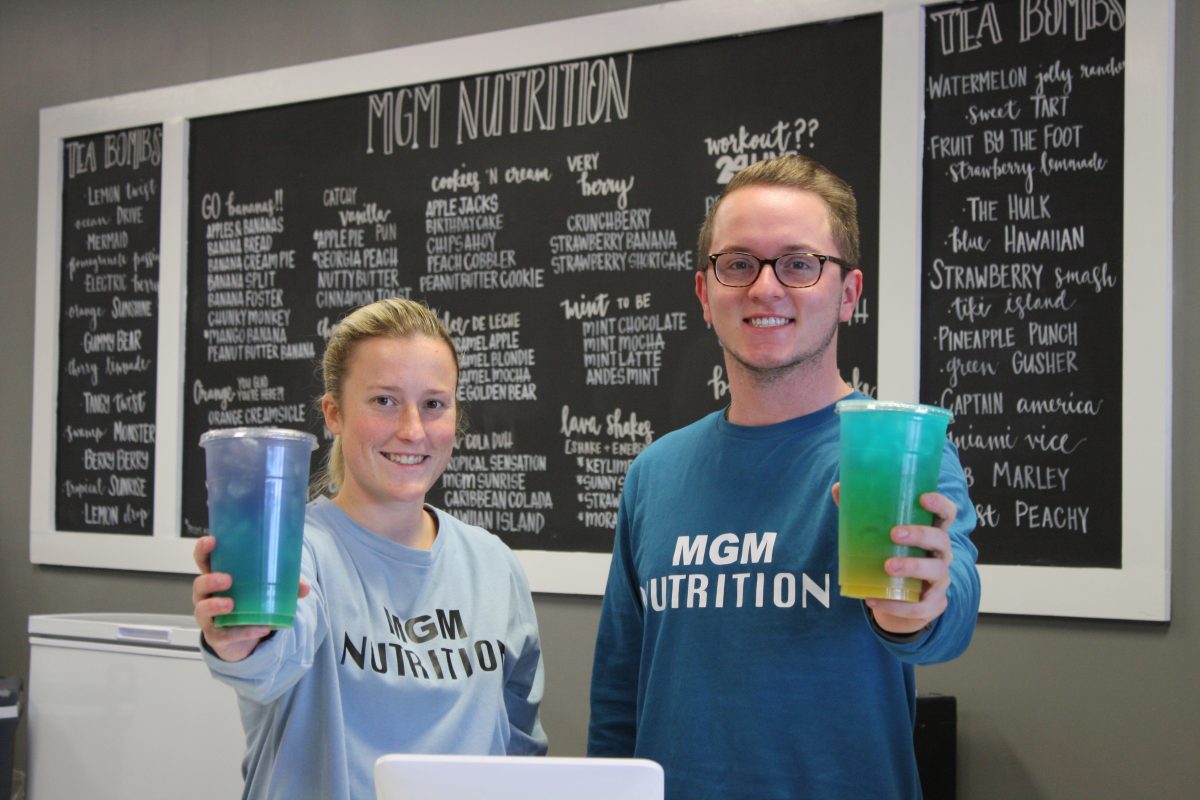 On October 24th, 2020, Faulkner business students Brianna Cagle and Logan Wallace held the grand opening celebration for their new business, MGM Nutrition. Located across the street from Faulkner behind Game X Change and Furlong's Engraving, MGM Nutrition serves a variety of healthy options including tea bombs, protein shakes, and iced coffees. 
After visiting a local nutrition shop in her hometown, Cagle fell in love with the product and saw the impact it could have on the Montgomery community. Shortly after, she learned that Wallace had a similar experience. His love for Herbalife products was having a negative effect on his budget. "I thought 'I'm spending too much money on this, I need to sell it instead," said Wallace. "I'd seen the impact, the life changes. I wanted to bring that to the Montgomery community."
Cagle and Wallace have worked together in the Student Government Association (SGA), Wallace as SGA president and Cagle as treasurer. This made the decision to work together an easy one. Wallace, a Business Management major, says his classes and the professors at Faulkner helped prepare him and have shaped his outlook. "The management classes that I've had are really coming out now. I'm really seeing the concepts play out in the real world." 
Cagle, a Business Administration major, expressed thanks to her many instructors from the college of business. "I could individually thank each one. It's so amazing the support they can give you. They truly care and I've learned so much from all of them."
Named after the Montgomery airport code, a big part of MGM Nutrition's mission is to serve the community, and this is especially important to Wallace. "We are all about giving back to the community, I make sure that's what we are always doing."
The response from the community, especially Faulkner, has made MGM Nutrition a success. The two have high hopes for the future. They plan to be around for a while, but are already grateful for the journey.
"Everyone is so supportive and uplifting," said Wallace. "They've been along the journey with us. They truly are the Faulkner family. We are here to serve. As long as the community wants it, we will make sure they are taken care of."
"I've learned so much about myself. I've learned the journey really is the destination, and it has all been worth it," said Cagle.