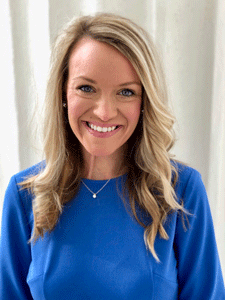 Kayla Farnon Bass's faith is a vital part of her life and a strong takeaway from her time as a student at Faulkner. Bass recently returned to her alma mater to speak to current students on her professional career and was awarded the Faulkner University Young Alumna Award for the College of Arts and Sciences English, Humanities, Music, Great Books Honors Program for Marketplace Faith Friday Forums.
"During my time at Faulkner I started each day with chapel. Being in the habit of starting my day with praise and worship has carried over into my adult life," Bass said. "Each morning, I start my day with some form of praise which allows me to begin my day centered. This has strengthened me in my work place by allowing me to start my day with a Christian mind set and reminding me – especially during times of frustration and stress – to treat everyone with the respect and kindness they deserve."
Bass was born in New Brockton, Alabama and received her Associate of Arts degree at Enterprise State Community College in 2011 and her Bachelor of Science degree in English from Faulkner in 2013.
"I knew that someday I wanted to be involved in politics – just not sure in what capacity. Being at Faulkner in the Capital City allowed me to navigate those waters and make connections, which ultimately led to an internship and full-time job with former Governor Robert Bentley," Bass said.
After graduation, she served as Communications Specialist to Governor Robert Bentley, Press Secretary to Alabama's Secretary of State John Merrill and Communications Director for VOICES for Alabama's Children.
She currently works as the Public Affairs Associate for the Alabama League of Municipalities. Bass works directly with the Deputy Director and Communications Director to promote League legislative positions through the development and implementation of grassroots campaigns and specific advocacy strategies as well as year-round communications efforts by the League.
In addition, Bass provides direct lobbying support when the Alabama Legislature is in session and manages ALM's policy committee process. She also works closely with the Communications Director to disseminate critical information to ALM members throughout the year. In 2017, Bass was one of 30 women to receive the Women Who Shape the State Award.
During her time at Faulkner, she served as Phi Lambda president and was on the Dean's List. While a student, Bass found life-long friendships, strong mentors in her professors and God's path for her life.
"As a matter of fact, three Faulkner graduates were in my wedding recently," Bass said. "I also appreciated the accessibility of my professors. As someone who strives off communication and constant contact – this was crucial for me to grow as a student and professional."
"I firmly believe that Jeremiah 29:11 is my life verse. Every path I've taken, whether it be my education or my career, there have been unknowns. How would I pay for something? Where would I live? Is this the right career choice? Even through all those unknowns I've always had the confidence to boldly and fiercely go after what plans were placed in front of me."
"Not only does God give me that confidence, throughout every phase of my life He's placed professors, parents, mentors and friends in my path to help guide me through the unknowns. It's because of Him and the gifts He has blessed me with that I am the successful woman I am today."