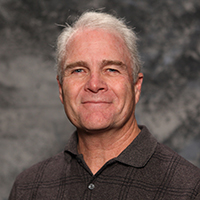 Years at Faulkner? 34 years
Education?
I'm from Colorado, but I attended Pepperdine University in California and earned a Bachelor's degree in PE and a Master's degree in sport medicine. I taught there and then went to Arizona State for four years and got my PhD in exercise physiology.
 What brought you to Faulkner?
I had a friend at Pepperdine. His brother visited us there, hung around the gym and he eventually got a Master's degree in PE. When I was in Arizona, he went to a wellness program in Mississippi and heard about the job here at Faulkner and told me about it. I wanted to teach at a Church of Christ university and this is the one that had an opening.
What attracted you to Faulkner?
The people were very nice. It was my first experience with the South, so there was a certain amount of culture shock, but they wanted me. It was nice to get straight out of school and to be wanted. I also needed a job and we fit together well.
Classes taught?
Lifetime Fitness, Exercise Physiology and Sport Psychology and PE classes.
What do you enjoy most about Faulkner University?
The people and the kids, who probably don't appreciate being called kids. When I first got here, E.J. Turner was still here, who was the brother of one of the founders, Rex Turner. The first year we were having a beginning-of-school-year cookout where parents dropped off their kids and they would come up to him and say, "Brother E.J., do you remember me?" He said, "Yes, you were the one who did such and such." He was getting second generation students and I thought, I will not be here that long. I was wrong. I have children of people who I had as students and it's really kind of fun. I'm surprised that I'm still here, but I am.
What attracted you to your field of study?
I was a music major and had a singing scholarship, but I discovered that I had to take theory classes. Then I discovered I could keep my singing scholarship if I sang in everything and I could still study whatever I wanted. So I took one of my professor's tests that tell you what you want to do when you grow up. He graded it and asked me if I had ever thought about being a PE teacher? He said, "You like outside, you like people, you like to stay active." I said, no that would be embarrassing to be one of the jocks. He suggested I try a class so I took anatomy physiology and my world changed. It was the first class in my life that I was just enthralled with. I would go and sit and just read a textbook of medical physiology and read whatever we were studying and just be fascinated. I thought, this isn't so dumb after all and I would like to do this and it worked out well.
What advice would you give students entering your classes or program?
The key is to find something you love to do and then regardless of the obstacles such as the job market may not be good, or the pay is not that good, or the hours or whatever it is, do it, because then like me you will love to do it. I have no intention of stopping after 40 years. Every time I walk into the class it's exciting, it's like theatre. My job is to keep my students awake, keep them interested and laugh occasionally. Don't worry about what pays the most. It's not worth it. You won't find happiness in money.
What's your favorite place in Montgomery?
The Shakespeare Festival. I'm there two or three days a week jogging and I love to go to the plays. We know the people there now because we've been going so long and they've come to the dinner theater when we've been in things. They are spectacular.