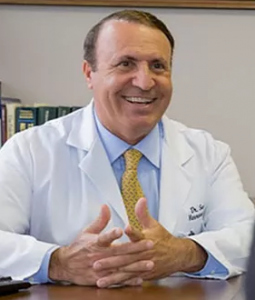 Faulkner University's Board of Trustees, world-renowned neurological surgeon, Dr. Swaid N. Swaid, M.D., was recently awarded the Healing Hands Award by the ASF Foundation.
The Healing Hands Award is a "recognition of unique actions by individuals to promote the concept of healing, grace, comfort and inspiration to those whom have been struck by disaster, both natural and man-made, by responding to the needs of a neighbor, friend, or stranger, and thus motivating others to greater achievement," according to ASF.
Swaid joins a list of high-caliber individuals who have been honored with the award including former President George W. Bush and former New York Mayor Rudy Giuliani in 2002 for their heroic leadership directly following the September 11, 2001 terrorist attacks.
In total, 10 individuals have been presented with the award for their "influence to the world around them, making it better and setting an example for others to emulate," according to ASF.
Swaid was presented the award in June during the televised broadcast of ASF Foundation's Alabama State Games Opening Ceremony.
"The ASF Foundation tries to find special individuals who, in Dr. Swaid's case, are saving lives and giving of himself and it's my pleasure on behalf of ASF Foundation to present the Healing Hands Award to Dr. Swaid," said Ronald Creel, LL.D. president and CEO of ASF Foundation during the live broadcast.
"This is a great surprise," Swaid said in response. "I had no idea this was going to happen tonight and I thank you. God bless you. It's an honor to live in the great state of Alabama and to take care of its people across the state."
Swaid was attending the ASF State Games to support his wife, Christy Swaid, founder of HEAL Alabama, an organization created to promote healthier lifestyles among children, who was participating in the games events.
Swaid, who was born in Eilaboun, Galilee in 1952 and came to the United States in 1969 to study at Harding University and UAB Medical School, is board certified by the American Board of Neurological Surgeons, a member of Alpha Omega Alpha, and a Fellow of the American College of Surgeons.
He has held numerous positions including Medical Director of CyberKnife of Birmingham, Chairman of the Department of Surgery at Brookwood Medical Center, Chief of Neuroscience Division at Brookwood Medical Center, Chairman of the Neuroscience Division at HealthSouth Medical Center, and Medical Director of HealthSouth Medical Center. In January of 2008, Governor Bob Riley re-appointed Dr. Swaid as the Chairman of the Certificate of Need Review Board for the State of Alabama.  He continues to serve on the Certificate of Need Review Board.
Swaid maintains a busy, private neurosurgical practice in Birmingham and specializes in cranial surgery, radiosurgery, treatment of Trigeminal Neuralgia, and cervical spine disorders. He has treated patients from all over the world who have sought him out to treat their complex brain and spinal conditions.  Having performed surgery on many physicians across the southeast, Dr. Swaid remains the doctor's choice for neurosurgery.
To learn more, visit  www.asffoundation.org