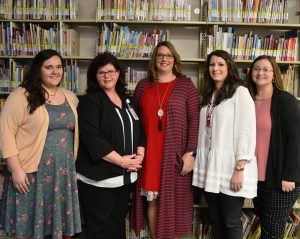 Throughout her time as a student at Faulkner University and her professional career, Jeannie Allen felt God's hand place her where she needs to be, she said.  When Jeannie's family hit hard times, Faulkner became her "spiritual anchor."
"I was surrounded by opportunities that allowed me to experience family in other ways," she said. "I had a social club family that provided relationships that are still precious to me. A choral and drama family provided an outlet for emotions."
"The Wigintons became my adoptive family and gave me a much-needed sense of belonging. Also, while at Faulkner, I met my now husband of 29 years."
Allen received her Bachelor degree from Faulkner University in psychology and wanted to go to school to become a counselor. She was advised to get a teaching degree, which led her to get a Master's in early childhood education from Auburn University at Montgomery.
From there, she was placed in positions to be an adjunct instructor, IEP Speech Team member as well as writing a shared teaching proposal to the superintendent of Montgomery Public Schools. She spent time as a teacher and became a Pre-K Coach for the Department of Early Childhood.
Her time at Faulkner also prepared her being a part of the new Pike Road Schools and teaching in new and innovative ways.  Her success there, led her to becoming Alabama PRA State Educator of the Year, District 5 teacher of the year as well as helped her achieve qualification for a position with the State of Alabama Department of Early Childhood Education.
"Those experiences at Faulkner strengthened my faith in God's provision. I have drawn of this strength during season of uncertainty in my work place. My time as Faulkner is a reminder of God's faithfulness," Allen said. 
"When I stand back and look at my journey so far, it is evident that God's hand placed me in positions that directly led me to the next steps in my life. Driving back on campus, it felt truly like 'coming home.'"