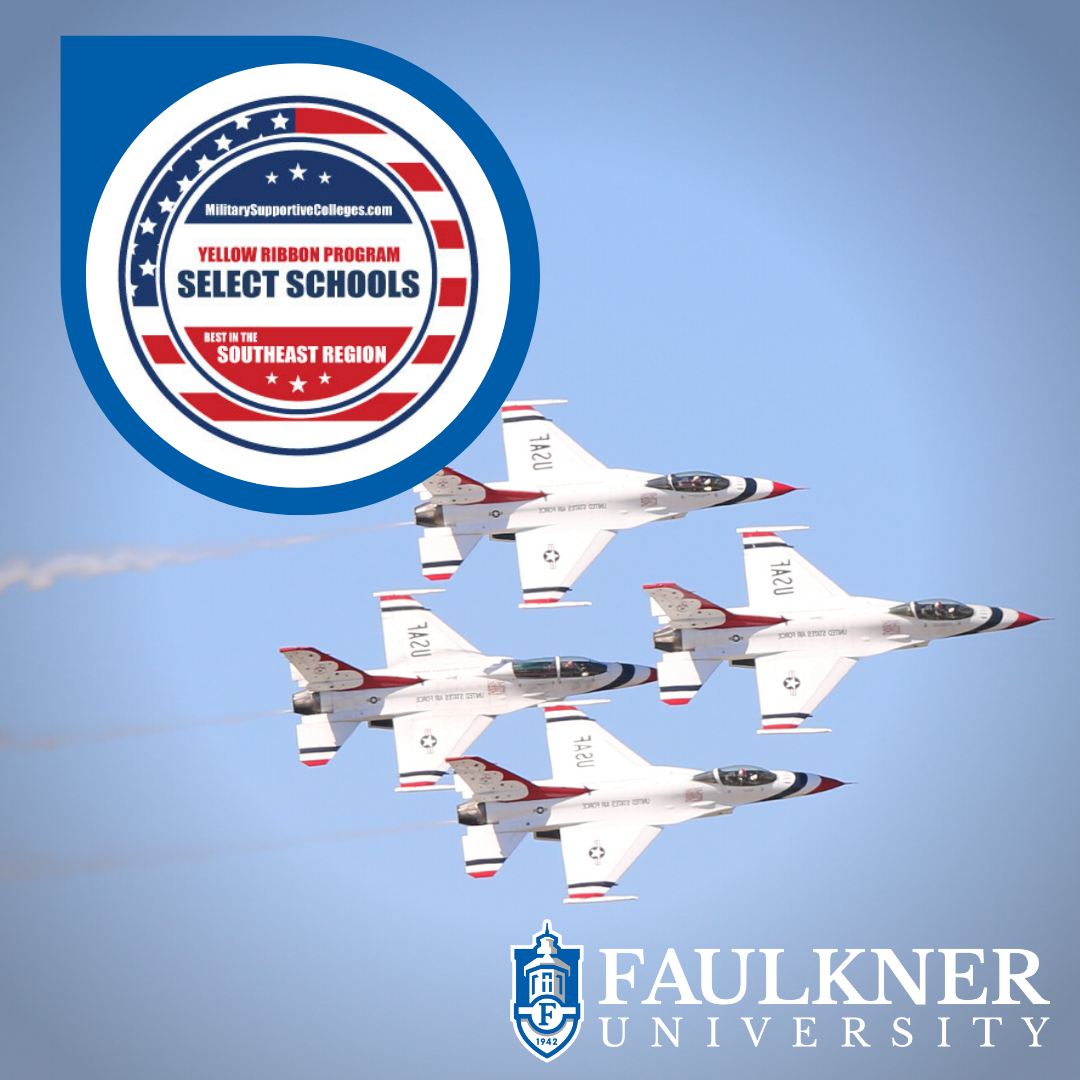 Faulkner provides military members, veterans, their spouses and dependents educational opportunities at all levels from undergraduate to doctoral and was recognized on the Editor's Pick list, 2022 MilitarySupportiveColleges.com Select Schools- Southeast Region.
MilitarySupportiveColleges.com is a website connecting service members, veterans and their families with schools that respect military service and understand how Veterans Affairs (VA) benefits work.
Every school featured on the list fully funds the Yellow Ribbon Program and extends that tuition support to every eligible vet that applies. The VA's Yellow Ribbon Program is designed to help cover tuition costs at more expensive schools that exceed the annual GI Bill® limit.
The VA Yellow Ribbon GI Education Enhancement Program was created in 2008 as part of the same Post-9/11 Veterans Educational Assistance Act – the same Act that created Chapter 33, or the Post-9/11 GI Bill®.
At Faulkner, the following departments and programs eligible for uncapped benefits and accept all eligible students under the Yellow Ribbon Program are as follows:
Arts and sciences
Biblical studies
Business and executive
Education
Health sciences
Faulkner Law
We provide a military-centric learning environment, which includes an outstanding selection of online degrees.
We are fully committed to our support of our nation's military, which is why we offer an undergrad military rate of just $250 per credit for select programs. An average class size of just 15, more than 60 on-campus degrees and more than 24 online degrees, and flexible, individualized learning experiences make us a clear choice for military students. Just some of our online bachelor's degree programs include Biblical Studies, Humanities, Business, Forensic Psychology, Sports Psychology, Counseling Psychology, and Human Resource Management.
Learn more at https://www.faulkner.edu/financial-aid/military-students-and-dependents/