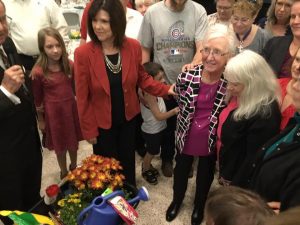 Over the last 27 years, it was not uncommon to see Alice Moore open the doors of the cafeteria before dawn and begin working with her team to have warm eggs, bacon and grits ready for hungry students at Faulkner University.
After raising, feeding and cooking for a full house of seven children in Grand Junction, Tennessee, Alice Moore found herself with an "empty nest." That's when she found a new family to call her own at Faulkner.
Now, nearly three decades later, Alice is leaving Faulkner in December after serving as the university's director of food services for Culinary Management Solutions and becoming like a second mother to many.
"The students have meant the most to me," Alice said. "I left Tennessee and all my children were grown except one and my husband was working toward a doctorate, so it was just myself and Faulkner became my second family."
For many students coming to school at Faulkner, Alice's bright smile was one of the first things they saw on campus as they walked through the cafeteria's glass doors.
That and the comforting smell of her famous cinnamon rolls, fried chicken, and Cajun casserole have brought many graduates back for a visit and to hug her neck.
"I think back to that time when you were the very first face I saw at Faulkner and for most students," said alumnus John Gordon, who now works as a financial advisor for Edward Jones.
"The food was always bountiful and always good. We're glad you are finally looking to take a break."
She has also left a lasting impact on faculty and staff at Faulkner alike.
"Alice, you are the spirit of Faulkner and we are going to miss you," said Elsa Price, a professor of science and education at Faulkner. "Everyone has been blessed by your presence and your work. We wish you the very best."
"When I think of Miss Alice, I think of this little woman with a heart the size and strength of a middle linebacker and I think of someone with a tremendous love for the Faulkner family," said Faulkner University President Mike Williams.
"Happy retirement. You're one of the greatest people ever made."
Alice's time at Faulkner is coming to an end, but the beginning of her journey to Montgomery came as a surprise phone call. A call that just felt right, she said.
Alice took her first cooking job near her family's home in Tennessee just to help make ends meet and worked to feed guests and forestry workers who were staying at a nearby plantation.
She then began baking at her children's elementary school until the manager there said she should look for work better suited for her advanced skills. That's when Alice was contacted by John Hill, the new owner of Culinary Management Solutions, who provided services for Faulkner.
"When John called me about taking the position at Faulkner he said he needed an answer that day," Alice said. "My husband was out and I wanted to wait until I saw him to ask, but I already knew I wanted to go.
"I had this feeling of fire that came into me that wanted to say yes. I don't know what it was, but my whole body ignited and I knew I had to go."
Alice admits it was a challenge at first, but looking back on her 40 years in food service with 27 of those at Faulkner, she said she wouldn't change a thing. She is proud of what she and her team have accomplished in providing food to students, staff and faculty, athletes, games and special events at Faulkner.
Billy Hilyer, who currently serves as the university's chancellor and was the university's president at the time he reached out to Hill, said he is grateful Alice said yes all those years ago.
"Alice, I want to wish you much happiness and good health in your coming retirement," Hilyer said. "Thank you for your many years of dedicated and tireless, selfless and excellent work here at Faulkner. It's amazing what you've been able to do."
Alice made the cafeteria not just a place to gain nutrients throughout the day, it was a place to feel at home, feel comforted and loved. For several years, Alice sent letters home to students' families asking loved ones for their favorite home-cooked recipes and then replicating those each week for the students.
It created a connection among students and eased the feeling of homesickness. The "Ask Alice" board was another innovative addition to the cafeteria where students and staff could write suggestions on food selections, future improvements or an encouraging word.
 Alice has also seen a lot of changes over the years to the cafeteria itself including a top to bottom renovation a year ago which was met with positive feedback from alumni, current and prospective students alike.
To celebrate her years of service, the Faulkner University family gathered, laughed, prayed and ate spaghetti and fried chicken, which are Alice's favorite dishes to bid her farewell as she embarks on her retirement.
The day set aside to honor Alice and her many years of service demonstrated what a light she has been to those who knew her.
Dozens of white mums, yellow pansies and purple violets brightened the center of linen clothed tables as they sat with a little note that read, "For Alice's Garden." They decorated the Rotunda as a special farewell to the campus icon, who plans to do a considerable amount of gardening in her spare time.
Whether it's breakfast, lunch or dinner, Alice's infectious spirit, energy and grace have impacted thousands of hungry students, many of whom return to visit her after they graduate for a hug and a full plate of good food.
Now, Alice closes up the cafeteria doors late into the evening for the last time after all the students have left after a filling dinner. Her daughter, Dusty Kozak will be taking over this spring as president of CMS and will continue to work at Faulkner where she's been helping her mom.
Alice, in the meantime, will be moving on to spend time with her twin sister, 18 grandchildren and the rest of her family as she gardens, fishes and of course cooks delicious food.