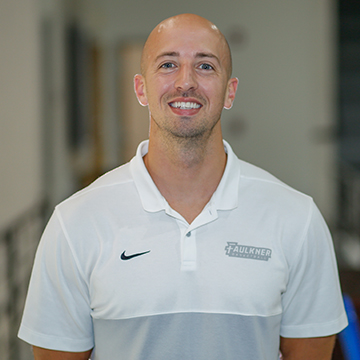 Faulkner alumnus Jake Mitchell has come full circle in his coaching career. After graduating and leaving Montgomery to coach basketball in Arkansas and then later in Tennessee, Mitchell has returned to his alma mater as the new assistant men's basketball coach with Coach Scott Sanderson.
Graduating with a Bachelor of Arts in Education in 2015, Mitchell was honored as this year's College of Arts and Sciences' Kinesiology and Exercise Science Accomplished Alumnus.
As assistant coach, Mitchell recruits students, schedules games, scouts for new talent, and handles practice.
"It's been an awesome experience working with Coach Sanderson and our team," Mitchell said. "I enjoy getting to work with the team and seeing them challenge themselves and develop over the years. The relationships built through coaching is what makes it worth it day in and day out."
Prior to starting his professional career, Mitchell played collegiate basketball at Faulkner University under Head Coach Jim Sanderson from 2010-2014, where he led his team to a Southern States Athletic Conference Championship and Sweet 16 appearance in the National Tournament his junior season.
"My experience at Faulkner was great. The relationships that I made with my teammates, friends, and teachers across campus are some of my best relationships still to this day," Mitchell added. "Faulkner was challenging and really helped me to develop into the man I am today. The education and relationships I got from Faulkner have given me the opportunities I've had so far in my career. All three jobs I've had up until this point are directly related to the relationships I built while in school here."
"The professors at Faulkner not only prepared me for my future career, but also demonstrated what it's like to live out their faith day in and day out. They showed me that relationships are the most important part in any profession. People will listen to you more if you treat them well and care for them as a person." 
Following his playing career with the Eagles, Mitchell served as a student assistant for the men's basketball program under Head Coach Scott Sanderson before obtaining his degree in education in 2015.
After graduation, he went to Harding University, where he served as a graduate assistant for the men's basketball program. In his only season with the Bisons, he helped lead the team to a Regular Season Championship and appearance in the Regional Tournament.
After that, Mitchell returned to Faulkner where he served as the assistant coach of the Faulkner University women's basketball program under Head Coach Reed Sutton. In his first season with the Eagles, he helped lead Faulkner from 13 wins the previous season to 19 wins. In his second season as Assistant Coach, Faulkner improved to 26 wins and made an appearance in the NAIA National Tournament.
Following that, he went to Freed-Hardeman University where he served as the assistant coach of the men's basketball team for three years before coming back to Faulkner to serve as the assistant coach for the men's program here under Head Coach Scott Sanderson. 
A native of Florence, Alabama, Mitchell earned a Master of Arts degree in Kinesiology from Harding University in 2016. He and his wife, Emma, welcomed their new baby girl, Lily Ann, on August 5, 2022, and they have the two best dogs in the world, Biscuit and Gravy.