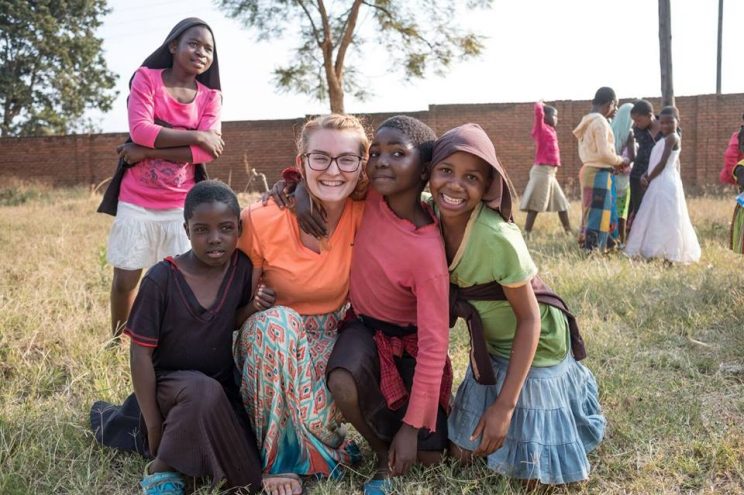 When Ashley Ingwersen left Malawi, Africa in 2017, she left a piece of her heart there in the safekeeping of the children of Mtendere Village. In exchange, the children's smiles and warm embraces is now a part of who she is – a Montgomery girl serving God's littlest ones.
After returning to life as a student at Faulkner, she watched for a chance to return to Malawi. It came this summer when she joined fellow student, Katie Goodson and Faulkner graduates Makenzie Anthony, Brittany Renfo, Kassie Beck, Jordan Hudspeth and others through Landmark Church of Christ. 
"I felt God was leading me to go to Malawi when the chance came up at my church," Ingwersen said. "I went again this year, because the Mtendere children just became a part of my heart."
There are nearly 150 children in the Mtendere Village, supported through the Malawi Project and Blessings Hospital who receive medical care, food, a home, education and of course a loving Christian environment.
They live in the midst of poverty in a rural area of the country. Many at the village are orphaned; many have AIDS, leukemia or Malaria. 
Despite facing these brutal realities, the children continued to smile. They laughed. They played. They learned. Ingwersen wrapped them up in her arms and squeezed them tight, without ever saying a word. Love was their common language.
"The kids don't care how you dress or what you look like. They get to know you for who you are or if you speak their language or not," Ingwersen said. "That's why our connection is so close. I gravitated toward them and their simplicity. We broke down barriers. We laughed. They got to be kids and they got to see my goofy side."
She also visited area hospitals and saw first-hand the effects of poverty on the sick and dying. She saw their bondage to local witch doctors for physical and spiritual healing.
Ingwersen is invested in helping as many children of Mtendere Village have a brighter and healthier future.
"The sick in the villages have resigned themselves that they are always going to be sick. It's indescribable the level of hopelessness they have or their full dependence on witch doctors to heal them," she said. "What we do is embrace them, build trust, bring them medical care directly and show them love through Christ."
Ashley Ingwersen is a junior English major at Faulkner University. She plays on the volleyball team and is student in the Great Books Honors program.