MONTGOMERY, Ala. – Faulkner University's Department of Computer Science recently welcomed six members of the department's newly formed Advisory Board.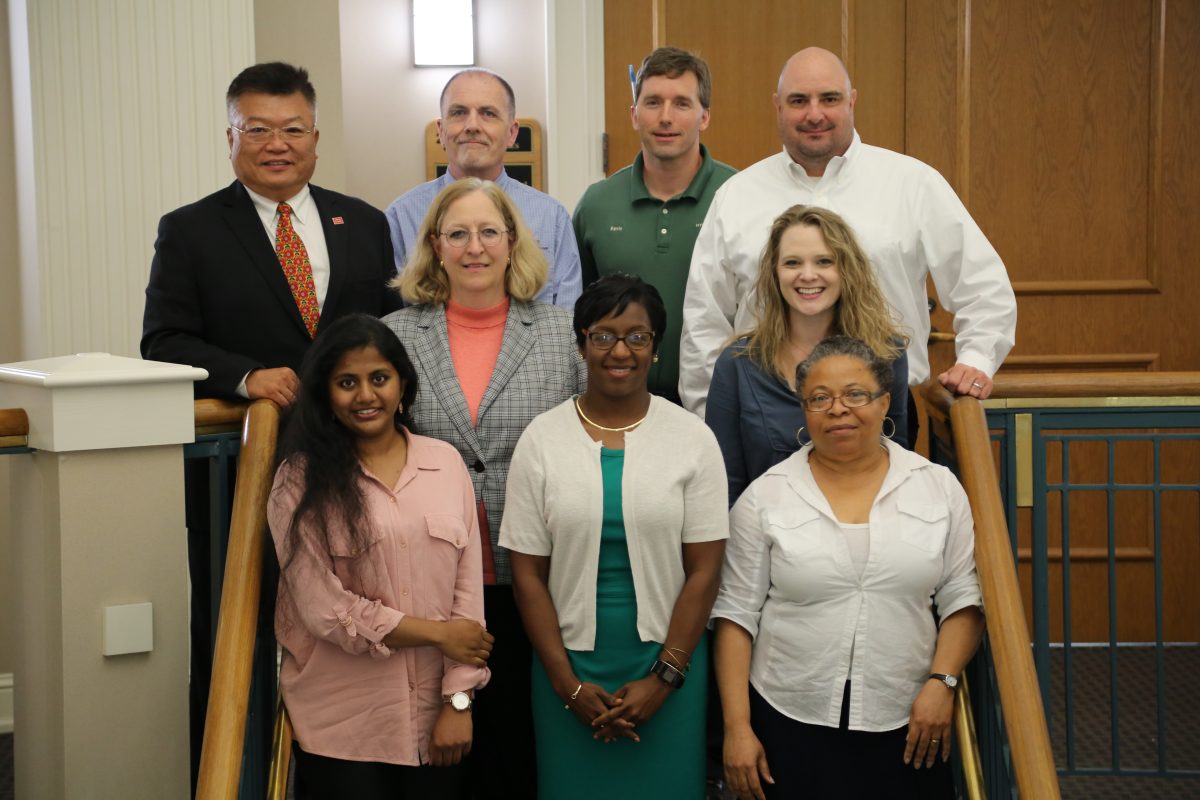 Six experts in the field of computer science from around the River Region and the state were invited to be a part of the board and invest in the students and programs of the CS department at Faulkner.
The new members are Andrea Long, development lead for the Blue Prism team, Kevin Poliquin, the Director of Automotive Manufacturing for Hyundai AutoEver America, Charisse Stokes, the President of Tidal IT Solutions, Dr. Yu-Tueng (Y.T.) Tsai, founder of the first Chinese corporation in the State of Alabama, Regitar U.S.A., Inc., David A. Umphress, Ph.D., COLSA Professor of Cyber Security and Information Assurance in Auburn University's Department of Computer Science and Software Engineering and Director of the Auburn Cyber Research Center, and Kevin D. Vezertzis, the Vice President, Strategic Systems and Digital Transformation at Alfa Insurance.
The Computer Science Advisory Board's mission is to "glorify God through the education of the whole person and the preparation of highly competent, socially committed computer scientists, emphasizing integrity of character, the love of learning, the skill of problem solving, the spirit of critical inquiry, professional competence and leadership, excellence as the benchmark for everything conducted, and a culture of service to society with concern for the common good."
According to Susan Hammond, Chair of the Department of Computer Science, the Advisory Board will have three main functions.
"The Advisory Board will provide an industry voice for the purpose of enhancing the fit between Student Learning Outcomes (SLOs) and the knowledge and skills sought by industry and higher education," Hammond said.
"The board will also advocate for the CS program in the department, college, and university, and within the industrial community and connect with program faculty and students at a systemic level that brings benefits to the companies represented on the board and to the students and faculty of the program."
The goal of creating an advisory board was to help build relationships between community members, students and the university. Not only will companies come in contact with talented individuals looking for employment opportunities, but the program at Faulkner will be enhanced by the years of experience the board members bring with them.
Students will graduate more prepared in their field from interacting with board members and by teaming with them on corporate projects and research activities, team-based capstone projects internships opportunities, workshops, tech-talks, site visits and mentoring.
Welcome the CS Advisory Board's founding members:
Andrea Long graduated from Faulkner University in May of 2014 with a BS in Computer Sciences and Information Science. While still in school at Faulkner, she launched a company called Christian Web Technologies that provides websites and mobile app services to churches. They have worked on over 50 sites and have 10 mobile applications currently in Google Play and Apple stores. After graduation, her first job was with Rural Sourcing Inc. as a Consultant. In early January, 2018, she moved to Nashville to start working at Accenture in the Robotics Process Automation program. She is currently working on the Blue Prism team as a development lead.
Kevin Poliquin is the Director of Automotive Manufacturing for Hyundai AutoEver America, the U.S. information technology subsidiary of Hyundai Motor Group. He earned a B.S. from the University of Buffalo in Business Administration, an MBA from Cornell University, and an M.S. in Information Technology from Carnegie Mellon University. After starting his career as a Systems Engineer with Electronic Data Systems, he spent three years in various roles with two startup companies before joining General Motors as an IT Manager where he advanced through multiple global operations positions until leaving for Hyundai AutoEver America as the IT leader for the US based plants.
Charisse Stokes is the President of Tidal IT Solutions, a Montgomery, AL based, information technology solutions, small business company. She also serves as the Executive Director of TechMGM, the collaboration of local, industry, educational and governmental entities working to leverage Montgomery's technology assets to focus on economic, workforce and community development. She earned a Bachelor of Science degree from Clemson University in Ceramic Engineering and a Masters of Business Administration (Finance) from Auburn University Montgomery. After starting her career in the United States Air Force as an acquisition officer she continued providing acquisition and program management support to the government as an industry executive.
Over the past twenty years she has held numerous program management positions responsible for managing the cost, schedule and performance of large scale IT projects supporting the warfighter. Charisse is a recognized community leader and currently serves as the Executive Director for TechMGM, A Montgomery Area Chamber of Commerce initiative. In addition, she is the Director of the Education Foundation for the Montgomery Armed Forces Communication and Electronics Association (AFCEA) Chapter providing STEM initiatives, grants, internships and scholarships and the Director of EduWerx, a nonprofit organization exposing minorities and young women to STEM in the local River Region community. She also serves as the Midsouth Regional Vice President and is on the AFCEA International Board of Directors, the Trenholm State Community College Computer Science Advisory Board and the Lee High School IT Career Academy Advisory Council. She was awarded the AFCEA International Distinguished Service to Education Award, the Women in AFCEA Appreciation Award and cited by the Girl Scouts as a Leading Lady. Most recently she was recognized by the Alabama Power Company as a Power Leader in the State of Alabama for her efforts in education, technology and innovation in the community. Charisse's greatest joy is spending time with her son, Dylan.
Dr. Yu-Tueng (Y.T.) Tsai, a Taiwanese native, received his Bachelor dual degrees of Law and Business Administration from National Chen-Chi University in Taipei, Taiwan, Republic of China. He completed his Masters of Business Administration at Eastern New Mexico University, and then received his Ph.D. in Management Information Systems from the University of Texas at Austin.
Dr. Tsai was an Assistant Professor at Auburn University at Montgomery. In 1987, he and his wife Dr. Chau Tsai founded the first Chinese corporation in the State of Alabama, Regitar U.S.A., Inc, a manufacturer, importer and exporter of electronic auto parts and power tools. Regitar U.S.A. has been recognized by Inc. 500 as one of the fastest-growing companies in America three years in a row in 2007, 2008 and 2009.
He was one of the founders and Chairman of the Board at Global Commerce Bank in Atlanta, Georgia. In addition to his daily roles at Regitar, Dr. Tsai serves on the International Advisory Board at The University of Alabama and the Research Advisory Board at Auburn University. He has served as a Chancellor's Advisory Board of Director at Auburn University at Montgomery and a Board of Director at the Montgomery Area Chamber of Commerce. In 2015, Dr. Tsai has been appointed by the President of Taiwan, Republic of China as Commissioner of Overseas Community Affairs Council. He is married to Dr. Chau Tsai and has two sons, Gary and Henry, two daughters-in-law, and five grandsons.
David A. Umphress, Ph.D., is COLSA Professor of Cyber Security and Information Assurance in Auburn University's Department of Computer Science and Software Engineering. He is also Director of the Auburn Cyber Research Center. He has worked over the past 35 years in various software and system engineering capacities in military, industry, and academia settings. His areas of expertise include general software engineering, systems engineering, secure software development, Android development, software vulnerability analysis, and software reverse engineering. Dr. Umphress is a retired Air Force officer. He holds the Institute of Electrical and Electronics Engineers (IEEE) Software Engineering Master Certification.
Kevin D. Vezertzis is the Vice President, Strategic Systems and Digital Transformation and is responsible for software development and business analysis at Alfa. He has been with Alfa Insurance Company in Montgomery, AL for 5 years, and previously worked for 7 years at Infinity Insurance Company of Birmingham, AL. Prior to that, in Atlanta, Kevin worked for 2 years at AON Hewitt and 5 years at Cypress Business Solutions. He holds a Bachelors from the University of Alabama, and a Masters from Pennsylvania State University. Kevin is married to Holly, and they have one son named Granum.