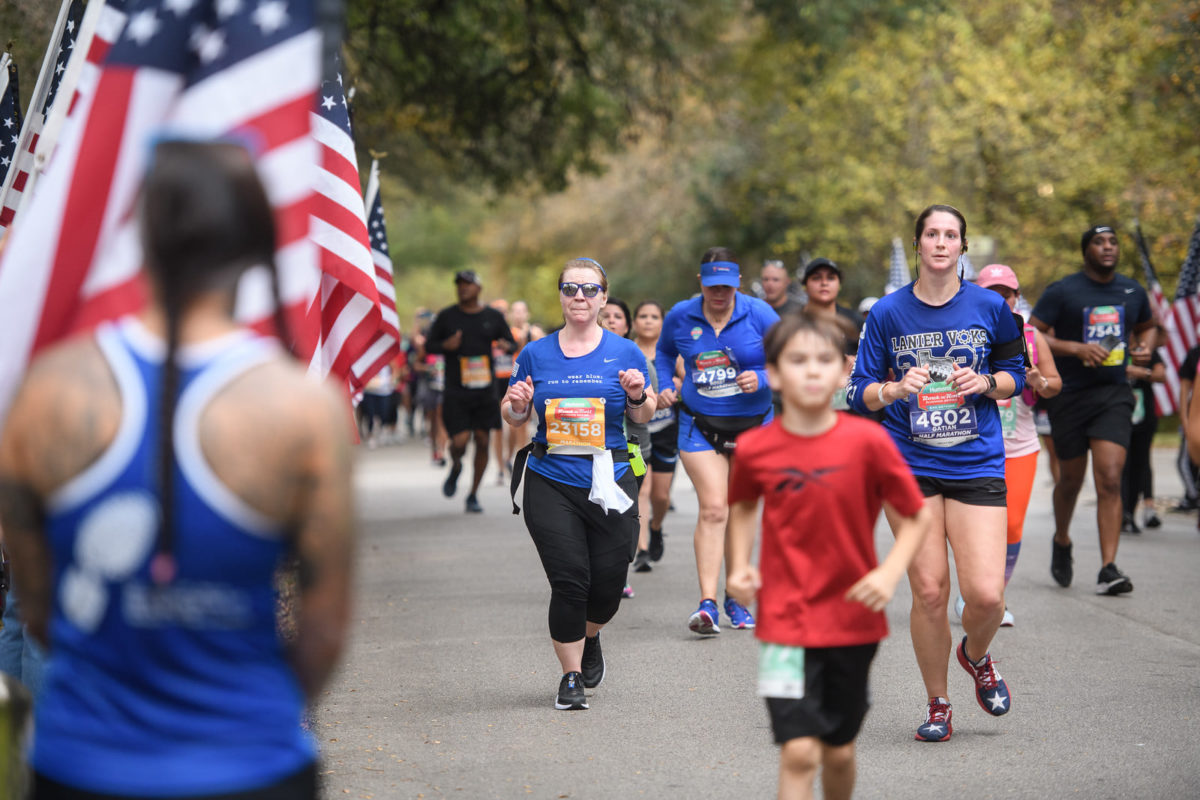 Inhale. Running shoes hit the black asphalt in solid rhythm. Arms pump. Exhale.
Mile upon mile slip behind her.
The run is hard, yes. Twenty six point two miles is a challenge for anyone, but that's not what Laurie Brookshire is thinking about. She's not thinking about her screaming calves or the fire burning in her lungs. She's thinking about her brother.
Then she's there. The Blue Mile. She sees hundreds of American flags waving. Runners ahead of her are stopping to pay their respects. And then she sees his picture.
He is among thousands of portraits framed in patriotic blue that spread out into a sea of fallen heroes before her. Each frame bears the brave portrait of a loved one, a brother, a sister, a daughter a son, a mother, a father who sacrificed themselves in service to their country. So that we might be free.
Among the faces, Brookshire finds the portrait of her younger brother, Staff Sergeant Michael Wesley Hosey and takes a moment to remember his smile, his laugh and his ultimate sacrifice. He is the reason why she runs. She runs to honor his service. She runs so others might remember.
"He always knew how to make people laugh," Brookshire said. "He never met a stranger. He could talk with someone for hours or he could listen for hours."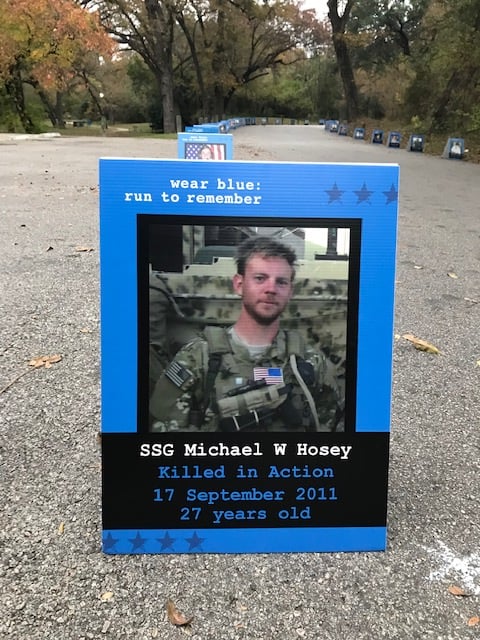 Hosey knew even at a young age that he wanted to serve his country. He joined the United States Army after graduating high school with his parent's permission. He was 17. Two days before he graduated boot camp in Fort Jackson, South Carolina, terrorists flew into the New York City World Trade Center on September 11, 2001 and his world changed forever.
He served 10 years in the Army's Special Forces, which included four tours in Afghanistan and Iraq.
Brookshire, who works in Faulkner's registrar's office as the transcript services representative, began running soon after her brother joined the service nearly 21 years ago. Her runs began with short distance races, which then led her and her husband David Brookshire to run in the Peachtree Road Race 10K in Atlanta, Georgia every July 4th.
Brookshire is grateful that even though Michael was serving in the military, he was always able to come home for Christmas. The last holiday they shared together with their families in Birmingham, it snowed.
"That made our last Christmas together so special," Brookshire said.
Nine months later, military officials arrived at the home of Brookshire's parents in Clay, Alabama in 2011 to deliver the news of Michael's death. He was killed in the line of duty during a tour in Afghanistan.
Michael was 27 when he died September 17, 2011 while serving as an Intelligence Specialist during Operation Enduring Freedom. He was assigned to the 3rd Battalion, 1st Special Forces Group, Joint Base Lewis-McChord, Washington. According to Military Times, Michael died from his injuries after insurgents attacked his unit.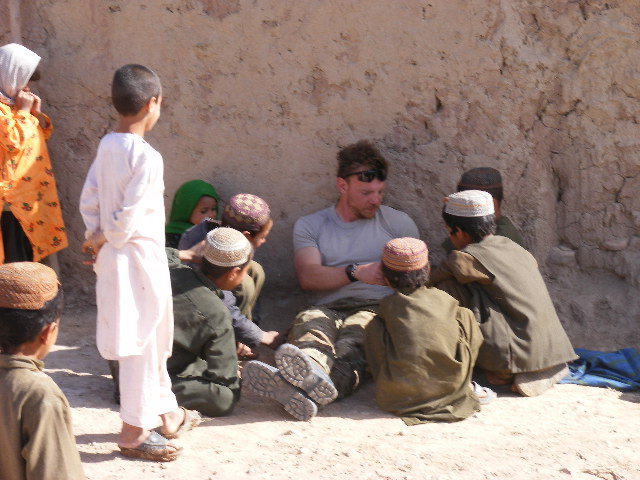 He was awarded the Bronze Star Medal, The Meritorious Service Medal and The Purple Heart for his actions in combat.
Brookshire continues to run in Michael's honor, but she is not alone. Each year she joins more than a dozen runners, who also run to honor a loved one who died in the line of duty. They are members of the Wear Blue: Run to Remember team.
As a part of Wear Blue events, American flags are lined along a mile swath of race course to honor the fallen, a tribute called the Wear Blue Mile. Each flag along the mile is hand-held making it a true living memorial. Placed in front of these flags are large posters with photographs of fallen heroes.
Most recently, on December 5, 2021, Brookshire, joined Wear Blue and Gold Star families to run in the Rock & Roll Marathon in San Antonio, Texas. It was her first marathon.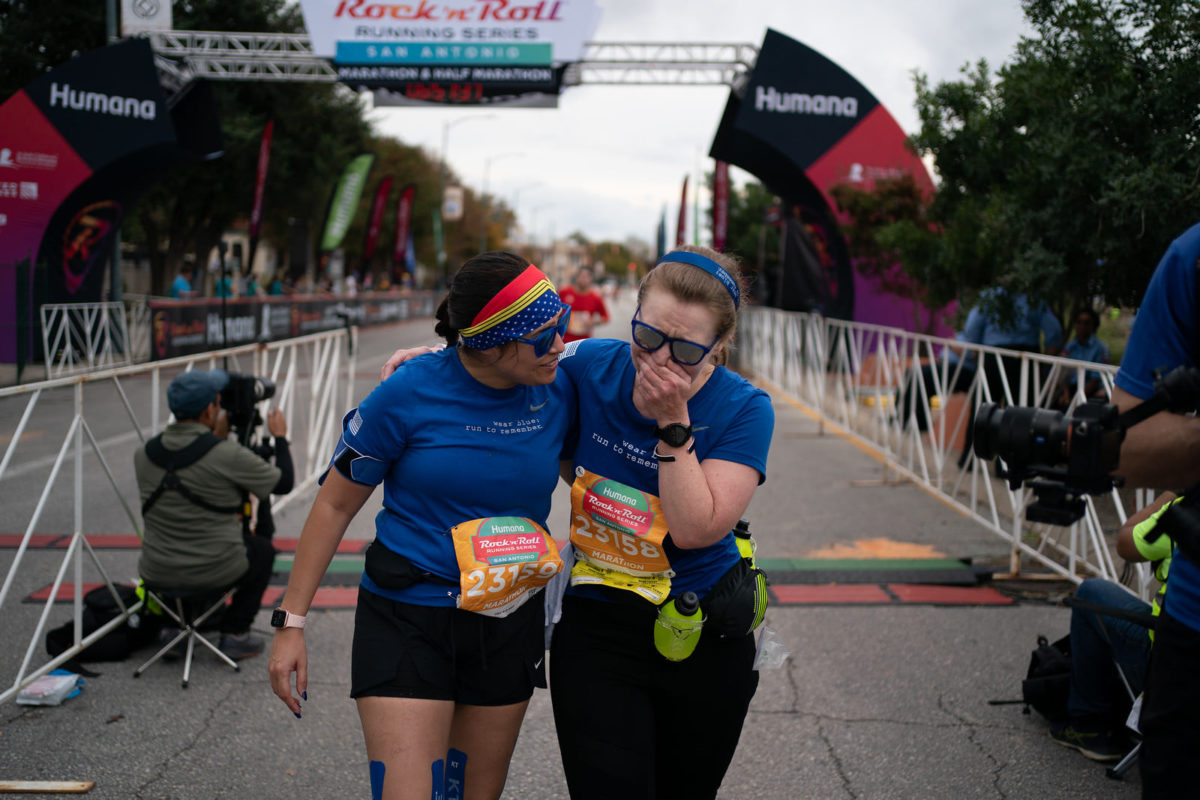 She first submitted her name to the Wear Blue committee and was chosen among twenty other athletes to run in the race.
"I wouldn't run if it weren't for him," Brookshire explained. "I never imagined I would be running a marathon, but there I was with 20 other family members who had also lost someone. Children who lost fathers and mothers. Brothers and sisters who lost a sibling. Mothers and fathers who lost a child. It was powerful to see."
Brookshire ran a half-marathon in 2013 in Michael's honor in Seattle, Washington where he was last stationed. She ran alongside two soldiers who served with Michael on his last deployment. It was there where she first saw the Wear Blue Mile. She began to research the organization and learned Wear Blue: Run to Remember is a nonprofit organization that serves as a support network for those preparing for a deployment, living through a deployment, recovering from a deployment and healing from loss sustained during a deployment.
After that race, Brookshire began running races on behalf of Wear Blue for Michael.
Running in December's marathon is something Brookshire will never forget.
"It was so breathtaking not only to see those posters, but to know that Michael was on that mile," Brookshire said. "To find his flag with his name … it was all for him. All the training to run that marathon was for him. Just to know that thousands of others running by were stopping to see his picture and see his name and to know that he is not forgotten was special. It was truly breathtaking to see the red, white and blue of freedom in that mile and to know that it is because of Michael and those men and women alongside him that we enjoy our freedoms today."