Every student who comes to Faulkner's campus, should not leave without a strong knowledge of the Bible. That is the sentiment Faulkner University's Jeremy Smith shared on the day when the university, alongside nine local churches of Christ, distributed nearly $17,000 worth of English Standard Version (ESV) Bibles to students during chapel.
"There is real value in sitting down undistracted and being able to meditate on the word of God," said Smith, Director of Sports Information and Marketing at Faulkner. "There are so many things contained within this library that was inspired by the Holy Spirit that we hope you'll come to know."
The inaugural Bible Day marked the second day of classes for students and it will be held at the beginning of each academic year going forward to give every new student their very own Bible. The Bibles given on August 16, 2023 were ESV Single Column Journaling Bibles, perfect for students to take notes during their Bible classes and devotional studies.
The Bibles were provided by the publishing company, Crossway, a not-for-profit Christian ministry that publishes the ESV Bible and gospel-centered books. Students can also have their Bibles customized with a free engraving of their name on the front or back cover by Furlongs Engraving located across from campus.
The money needed to purchase the Bibles was raised by nine local churches of Christ including Rossville Church of Christ, Lightwood Church of Christ, Vaughn Park Church of Christ, University Church of Christ, Dalraida Church of Christ, Eastern Meadows Church of Christ, Grace Pointe Church of Christ, Hunter Hills, Landmark and separate donations by Nancy Itson and a Christian couple..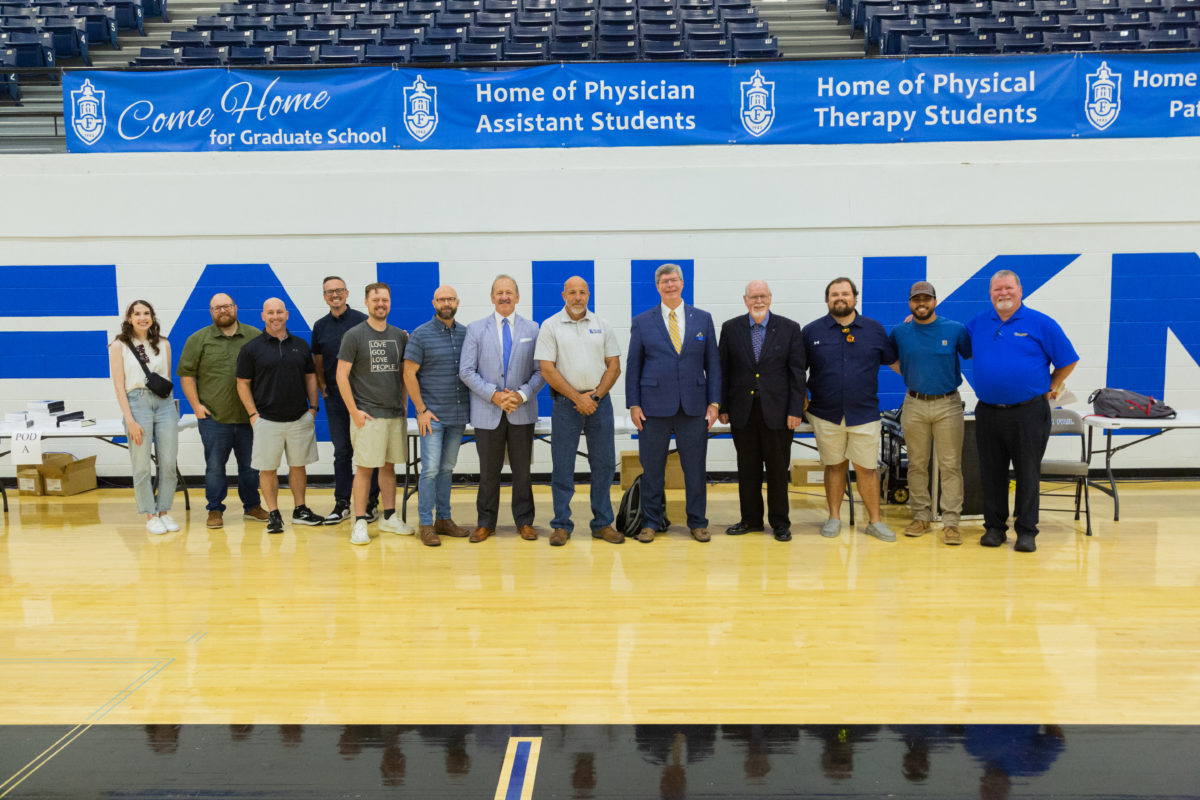 "From the gracious gifts of local churches and one church in Georgia, who through their contributions from the smallest child to the oldest widow or widower, we were able to purchase these Bibles for you, because they care about you and they love you," said Faulkner University President Mitch Henry.
Students were then directed by groups to go to tables lining the Tine Davis Gym and the Student Multiplex to pick up their Bibles. There they were met with smiles and handshakes from the representatives of those churches and volunteers from Holt Street Church of Christ and Southside Church of Christ who were present to hand them their Bibles individually.
Several students were in tears as they expressed their gratitude. For some, this was the first Bible they had ever owned.
For Breanna Clark, it was the deciding factor in her decision to be baptized.
"When it was announced that every single student was receiving a Bible without any cost, it really struck me in my heart and nearly brought me to tears,' Breanna said. "I've had a Bible in the past, but I know some people have never had one of their own and the fact that Faulkner was able to make the most important book in history accessible to everyone was a huge blessing."
"I decided that day to be baptized after waking up and having it on my mind, and this act of kindness from our local churches was the icing on the cake for me to make my decision to follow Christ. The fact that donors who may not know us personally worked together to donate so much to our student body is a true testament of Christian love; God is at work on this campus and the giveaway of the Bibles is a perfect example of that. It is so nice to be able to begin my walk with Christ with a brand-new copy of God's word to strengthen my faith. This day will forever be special to me."
A few weeks later, 198 Faulkner College of Health Science students also received the same Bible on their first day of classes. Students walked into orientation on August 28 to find a new Bible at each seat.
"God desires for us to seek him and understand him, but he doesn't set us about without direction, he doesn't set us about with nothing to follow," Smith said. "Paul says in 2 Timothy 3:16 that all scripture is breathed out by God and profitable for teaching, for reproof, for correction and for training in righteousness so the man of God may be complete and equipped for every good work. You know what that means? That means this library we're going to put in your hands today contains the answers to all the questions that need answers, but they're not just freely offered. You have to work at it. You have to study it and you have to know it and it is a lifetime study."
"Keep this Bible please and when you come to someone, when you come to me or one of your professors, whoever it is, have this Bible because this is where the answers and the guidance will come from," he added. "There is no more important book you can put in your hand. So, keep it, cherish it, treasure it and study it. It is a lifetime experience."