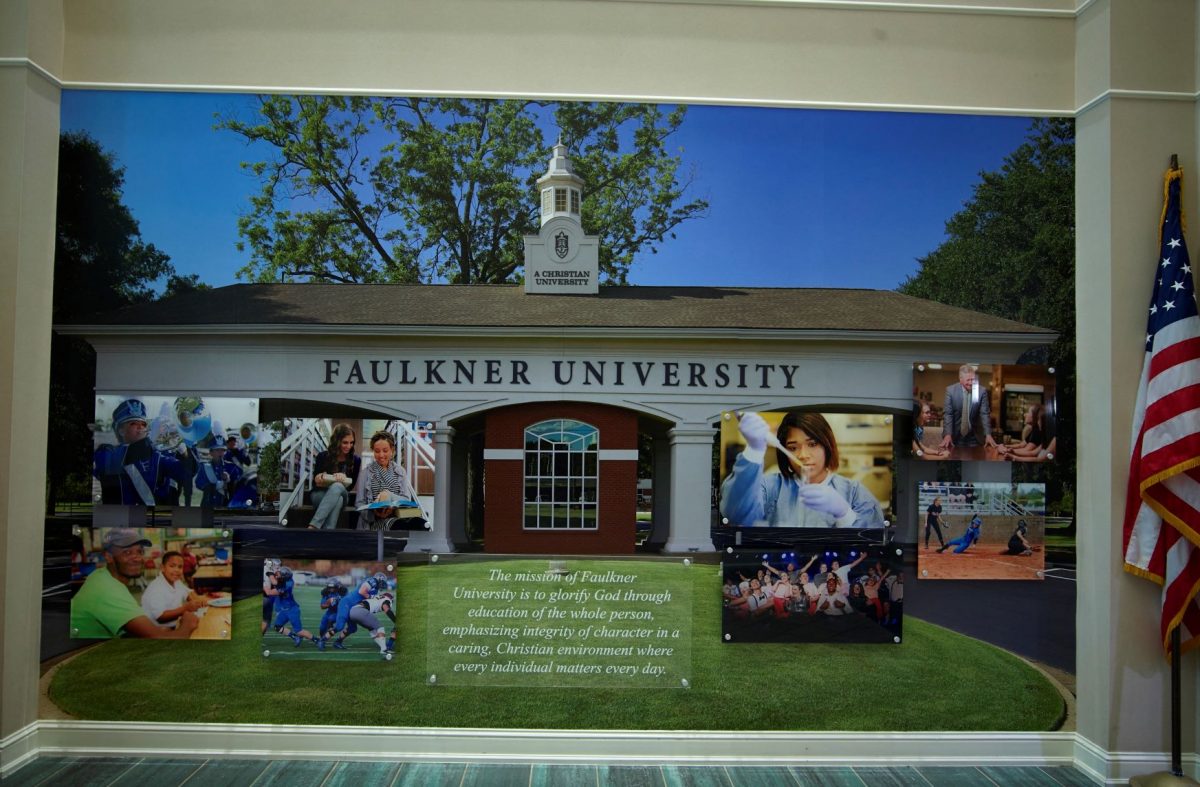 You can't make a first impression twice; so, Faulkner University gave their first impression a face lift. Faulkner leaders, Patrick Gregory, John Tyson, and Mark Hunt worked together to bring a new look to the foyer of Faulkner University's Harris College of Business. Prospective students coming to tour Faulkner walk into the Harris Building and take a right to meet with their admissions counselor, but first they get a glimpse of Faulkner University's student life.
On one side, a beautiful mural features Faulkner's campus and photographs of students that showcase an array of Faulkner's student life. On the other side, another mural shows an image looking at downtown Montgomery towards the Capitol Building, with acrylic photographs of Faulkner's impact on the River Region.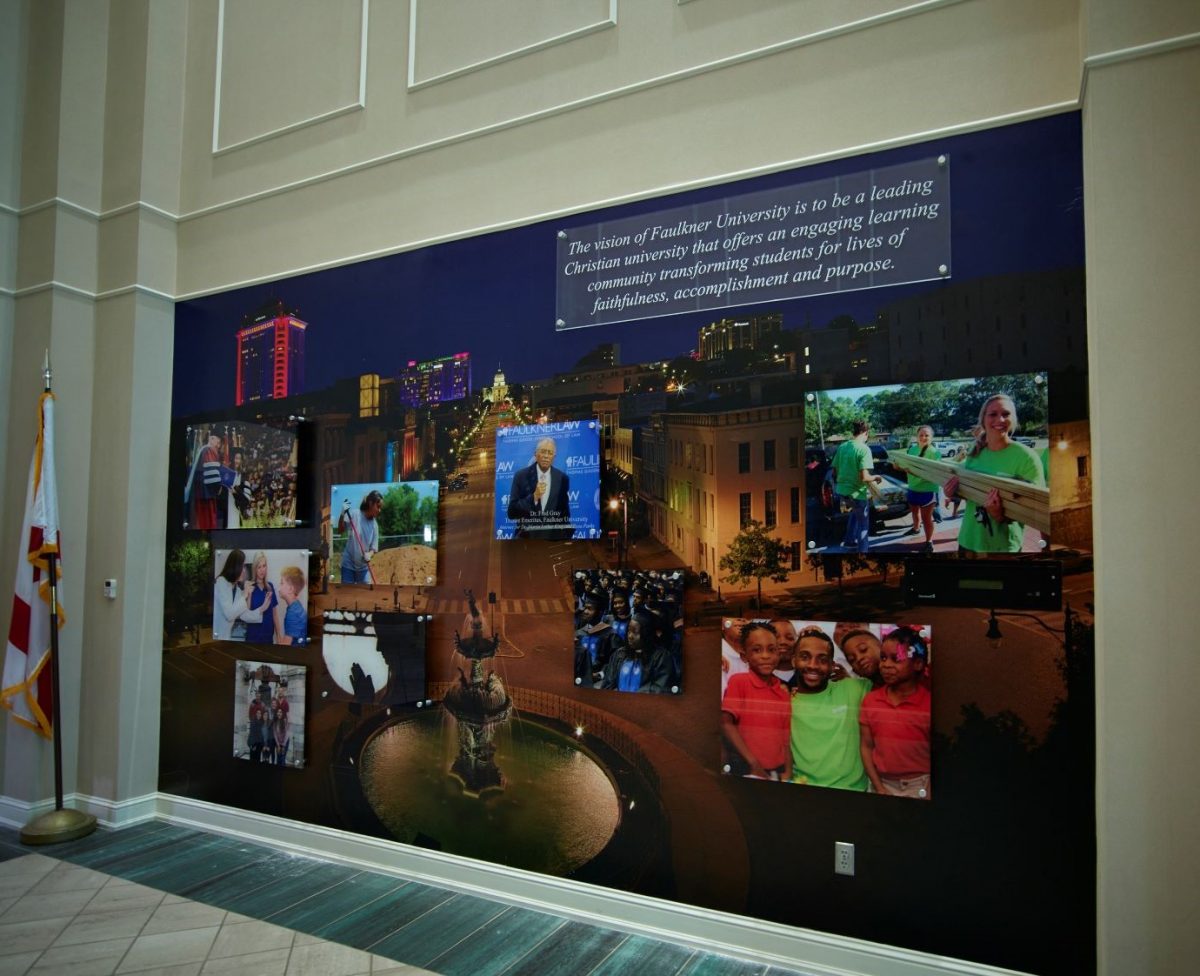 "We hope that prospective students and their parents will stop to appreciate the images and ask their admissions counselor questions about anything on the wall that interests them," said Gregory, the director of marketing at Faulkner.
The face lift did not stop at the entrance. There is a new mural in the admissions office, which features Faulkner's iconic Freeman Tower and the new Faulkner logo. All three murals create ideal backdrops to snap a selfie, or pose with Baldwin the Eagle.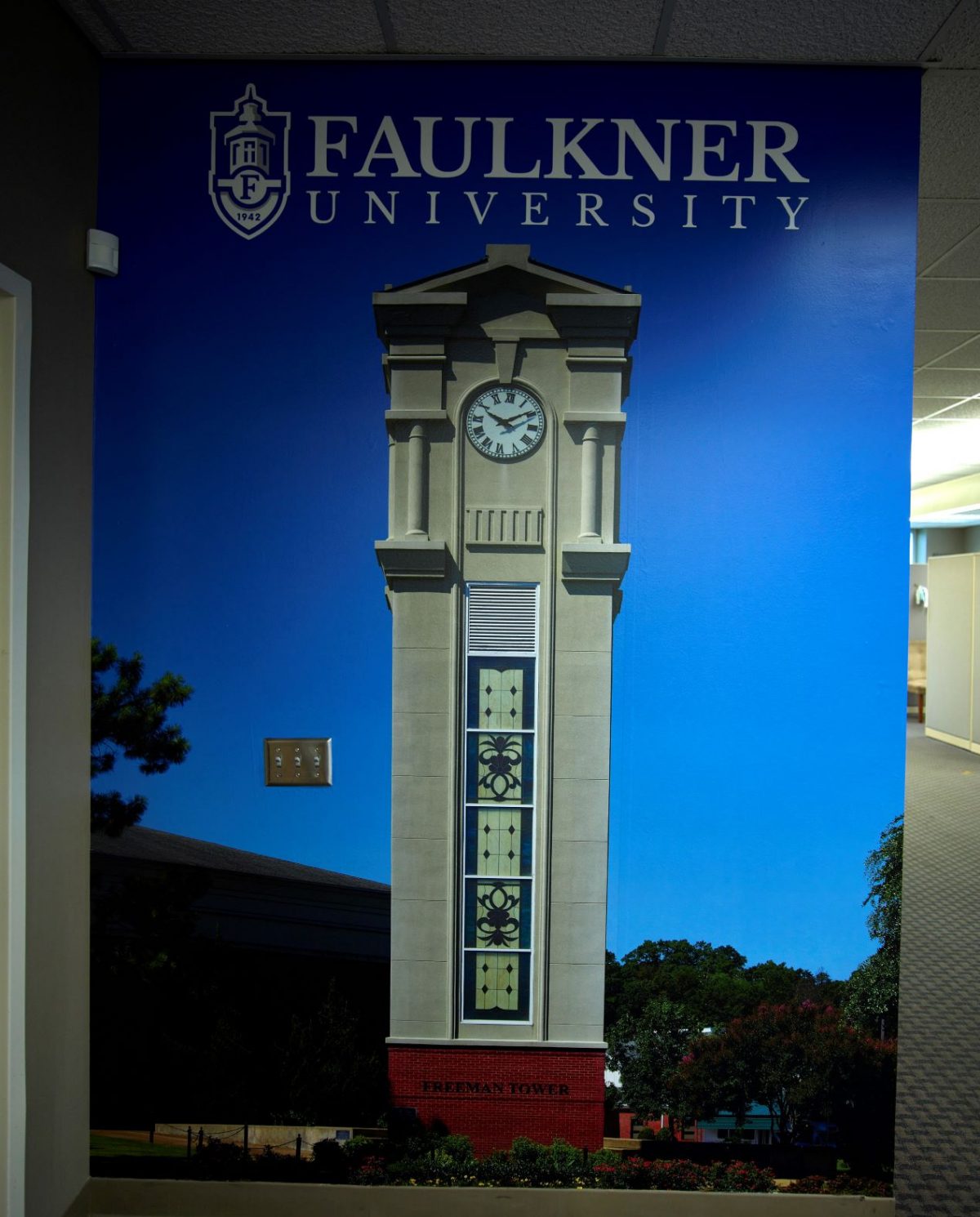 The new murals represent the family of Faulkner University. Showcasing every aspect of Faulkner life from Jamboree to Study Abroad and everything in between.The murals feature Faulkner's vision and mission statement. They are works of art, which tell the story of Faulkner.
An important part of the Faulkner story is the generous contributions made by the Harris family, which the Harris College of Business is named for. A portrait of the Harris' was moved to make room for the murals.
"The portrait of the Harris' is being moved to a more prominent location in the atrium and a descriptive plaque describing their contribution to the school will be added," Gregory said.
The murals were installed on July 24, 2020 by Jim Harding, the artist behind the murals. Harding is the president of Harding Creative, Inc., based out of Memphis, Tennessee. Harding also took many of the photographs featured in the murals.