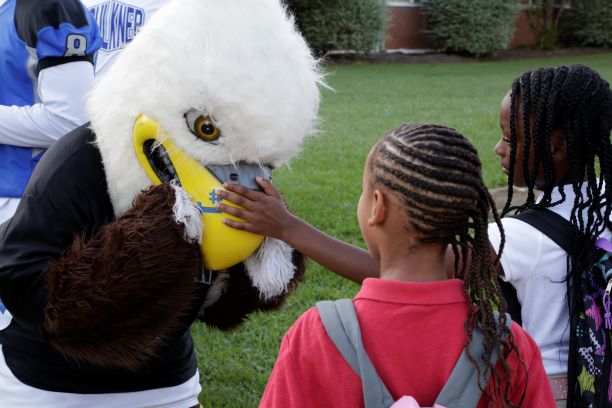 MONTGOMERY, Ala. – The energy soared inside the halls of Montgomery Public School's Davis Elementary on Monday as about 300 Faulkner University athletes welcomed Davis students back to school on their first day with smiles and cheers.
Faulkner Eagle cheerleaders, football players, soccer players, basketball teams, volleyball and golf teams stood shoulder-to-shoulder along the sidewalks and hallways as they high-fived, clapped and welcomed students back on their first day back to school.
Even Faulkner Eagles' mascot, Baldwin came out to hug students and pose for pictures.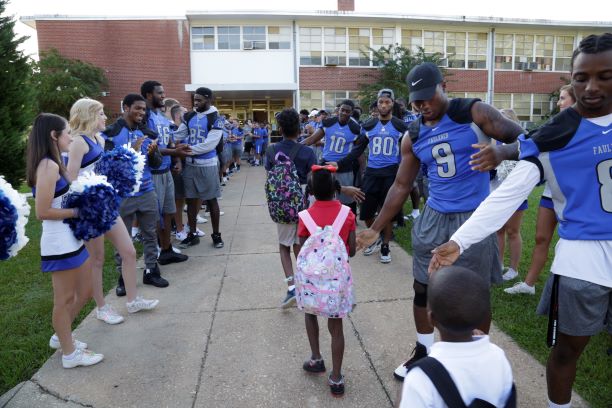 "We love to do this," said Dr. Jean-Noel Thompson, Vice President of Student Services at Faulkner. "It's so neat to see the motivation and the enthusiasm on the kids' faces and of the parents. Seeing our athletes out here is a blessing and it gets everyone excited for who we are and what Faulkner stands for."
It is the third year Faulkner students, coaches, faculty, staff and leadership have come out in force to give a warm surprise welcome to the students, parents and teachers of Davis.
The partnership that Faulkner and Davis began has grown and continues to grow each year as Faulkner invites Davis students onto Faulkner's campus to watch home games throughout the year. Several Faulkner students also go back to Davis to volunteer and read to students.
"This Davis' third year having Faulkner University here to welcome back our students," said Aleysia Alves, Principal of Davis Elementary. "We thank Faulkner so much for the consistency and for not only making sure our student feel welcome, but our staff as well. It's such a nice pump-up for the beginning of the school year. I'm just so grateful."