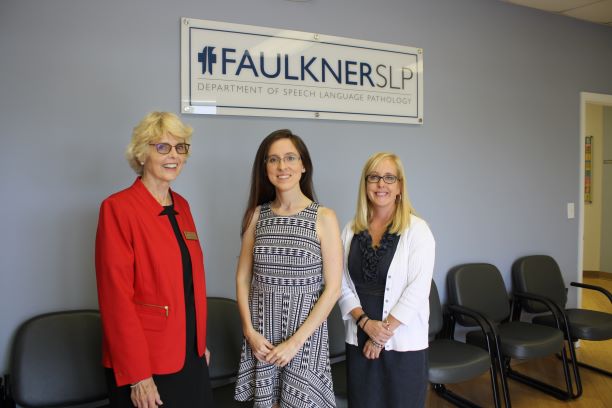 Leah Fullman, Sc.D., founding director of the Faulkner University's new Department of Speech Language Pathology, recently announced the hiring of a high-caliber faculty.
Renowned speech language pathologist, Sheela Stuart, Ph.D., joins the program as professor and research director. Stuart earned her Master's in Communication Disorders from the University of South Dakota and her doctorate from the University of Nebraska with an emphasis in Augmentative and Alternative Communication (AAC).
Stuart formerly served as tenured faculty at New Mexico State University and George Washington University, as chief of Speech Language Pathology at National Children's Hospital in Washington D.C. and as president of the United States Society for Augmentative and Alternative Communication.
Stuart has received dozens of honors, presented at over 100 national and international conferences and has published works in more than 30 medical journals and books in the areas of AAC and feeding and swallowing disorders.
"When I first heard of Faulkner's intention to build a Center for Autism and a communication disorders program to train Speech-Language Pathologists I was ecstatic. As a speech-language pathologist who has served this population, I know there is such a need for this type of service provision. A commitment to meet that need, from an institution with Faulkner's integrity and faith based
mission is an answer to many prayers."
Amy Ogburn, Ph.D., professor and clinic director for the MSLP program, earned her Bachelor of Science in Communication Disorders from Auburn University and her doctorate in communication disorders from University of South Alabama.
Kellie Rine, assistant clinical professor, earned her Bachelor of Arts in special education and Master of Education in early childhood special education from Harding University. She earned her Master's in speech language pathology from
Nova Southeastern University. Her clinical and research interests include language and literacy disorders.
Cara Tyson, assistant professor, earned her Bachelor of Science in speech language pathology from Howard University, Master of Education in autism and developmental disabilities from University of Texas at Austin and her Master's in speech language pathology from Louisiana State University.
Fullman earned her Bachelor of Science in elementary education and teaching certificate from California State University, Fullerton, her Master's in communication disorders and sciences from Southern Illinois University Carbondale, and her Doctor of Science in SLP from Rocky Mountain University. Fullman has worked with children with autism and other developmental disabilities since 2001,
first as a teacher and then as a speech language pathologist. Her clinical specialization and research interests include childhood speech and language disorders, craniofacial disorders, and pediatric dysphagia.