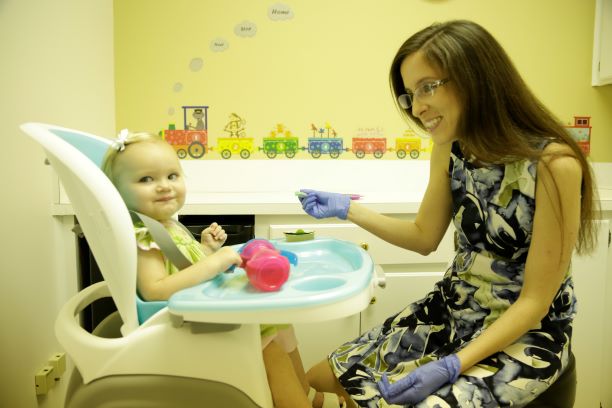 MONTGOMERY, Ala. – Faulkner University is thrilled to announce the opening of its new Speech and Language Pathology Clinic, a component of the new College of Health Sciences and the first step toward a comprehensive autism center.
The fully funded diagnostic and treatment clinic is well equipped and staffed to see patients and officially opened last month offering services to all ages, infants through the elderly. Patients from the area are welcomed to call for an appointment. Services are being offered at no cost.
The clinical staff will see patients diagnosed with the following disorders: language, including reading and writing, speech, voice, such as hoarse or breathy voice, resonance, such as cleft palate or nasal voice, feeding and swallowing, including feeding tubes, social communication, including autism, cognition, such as stroke or brain injury, hearing impairment and stuttering.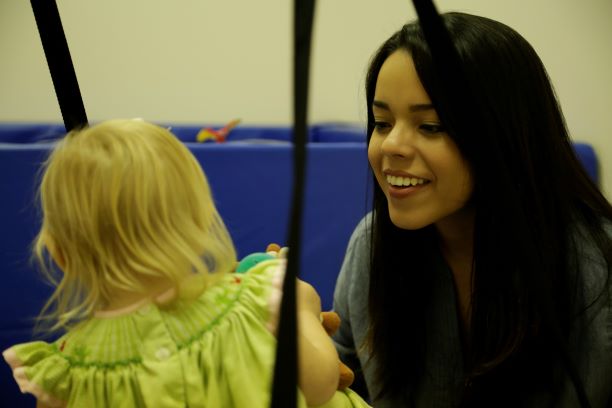 More than 30 students have already signed up to be a part of Faulkner's new Department of SLP under the new College of Health Sciences that begins this fall semester and a part of their clinical work will take place at the SLP Clinic. The clinic is located on Woodmere Boulevard.
"This is a teaching clinic operated by the Department of SLP. All services will be provided by a faculty member and graduate student team," said Dr. Leah Fullman, director of the clinic. "Since the clinic is fully funded at this time, there will currently be no co-pay for services provided."
Inside the clinic are several child-friendly and inviting exams rooms with toys, monitoring equipment, tools and safeguards for infants, toddlers and other youth along with adult specific exam rooms. An area for play for children is also available, complete with ball pit, swing and bouncy balls.
The Clinic is available by appointment only. Staff will be conducting evaluations now and treatment sessions will begin September 10 for those who qualify for treatment and must send us a referral from your doctor prior to the time of your SLP evaluation.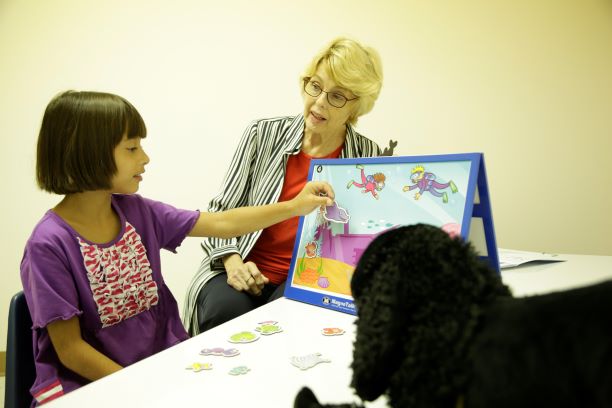 In 2017 Faulkner President Mike Williams announced that the university plans to establish an autism center on campus by the end of 2019. The comprehensive, interdisciplinary center will combine resources from the College of Education and the College of Heath Sciences. As the university adds programs and staff and additional funds are raised, the clinic will expand and move on campus.
"This new clinic is an exciting step for Faulkner University as the first public launch for our College of Health Sciences," Williams said. "The opening of this clinic is a coming to fruition of a lot of planning and sweat equity to prepare for this great event – launching this speech and language therapy."
The College of Health Sciences completed the accreditation approval and certification process last month, said Dave Rampersad, Ph.D., the Vice President of Academic Affairs.
"Expanding into the health sciences is going to elevate Faulkner's academic programs and its standings academically," said Rampersad. "With speech and language pathology, this affords the opportunity to begin the sequence of many related health science programs."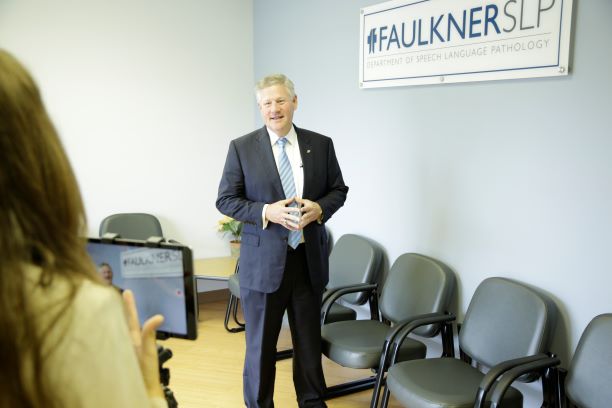 Clinic Phone: 334-386-7350
Clinic Fax: 334-386-7354
Email: clinic@faulkner.edu
Address: 4780 Woodmere Blvd, Montgomery, Alabama, 36106
SLP Faculty:
Leah Fullman, ScD CCC-SLP
Specializes in medical pediatrics, including medically fragile children, syndromes, craniofacial anomalies, feeding tubes, and tracheostomy (breathing) tubes.
Amy Ogburn, PhD CCC-SLP
Specializes in adults with speech, language, voice, stuttering, swallowing, and cognitive disorders.
Sheela Stuart, PhD CCC-SLP
Specializes in children with feeding/swallowing, cognitive, and language disorders, including augmentative and alternative communication (AAC), animal assisted therapy, and severely disabled children.
Cara Tyson, PhD CCC-SLP
Specializes in child speech and language disorders, including social communication and Autism.
Kellie Rine, M.Ed., MA CCC-SLP
Specializes in child speech and language disorders, including auditory processing and literacy disorders.
Charles King, Administrative Assistant
Manager of the front office at the SLP Clinic.