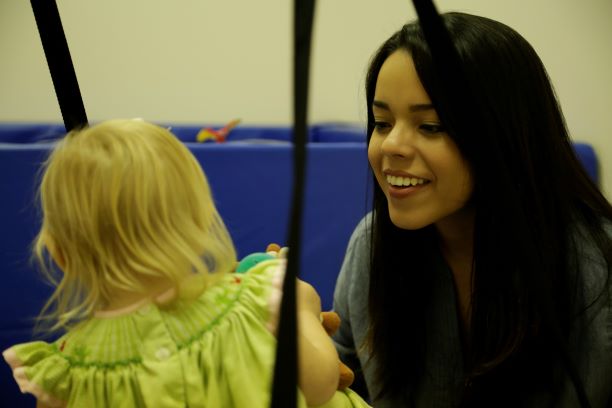 Esther Barahona's heart is in Honduras. As a student at Faulkner University, she plans to take what she learns in Montgomery, Ala. and share it with the people of Central America. As one of the first students studying in Faulkner's new department of speech and language pathology (SLP),  Barahona is on track to become a licensed speech and language pathologist and return home to Honduras to serve.
"I am really looking forward to taking what I learn back home to Honduras," she said. "It's not something that you can find a lot there, so I think it's going to be really cool to go back and provide this service."
When Barahona came to Faulkner three years ago, she knew she wanted to go into the health profession, but wasn't quite sure where to start. She learned that Faulkner was adding a speech and language pathology program at just the right time.
Barahona will spend much of her time in the newly-opened SLP clinic, gaining crucial hours of hands-on clinical experience.
It is that hands on interaction that first drew Barahona to the program.
"I was looking for a profession where I could have a lot of patient interaction," Barahona said. "I had experience with my nephew where I got to see his progress when he worked with a speech pathologist and that really drew me."
"The field is so interactive and you get do so much one-on-one with the patient. I think that's really neat that you can build that connection and help them and serve them."
She was especially impressed with Faulkner's program and its mission to serve the whole person, not just their disability. The faculty's goal is to train speech and language pathologists who have a humanitarian heart for serving others. 
"Interacting with the faculty I can just see that they are excited to serve the community and to teach us, and that makes me excited to be a part of the program," Barahona said.
Esther Barahona is a senior at Faulkner University and will graduate with a Bachelor of Science in Communication Sciences and Disorders in May and will begin her Master of Arts and Master of Science in Speech and Language Pathology in 2019. She is also a member of the Great Books Honors program.