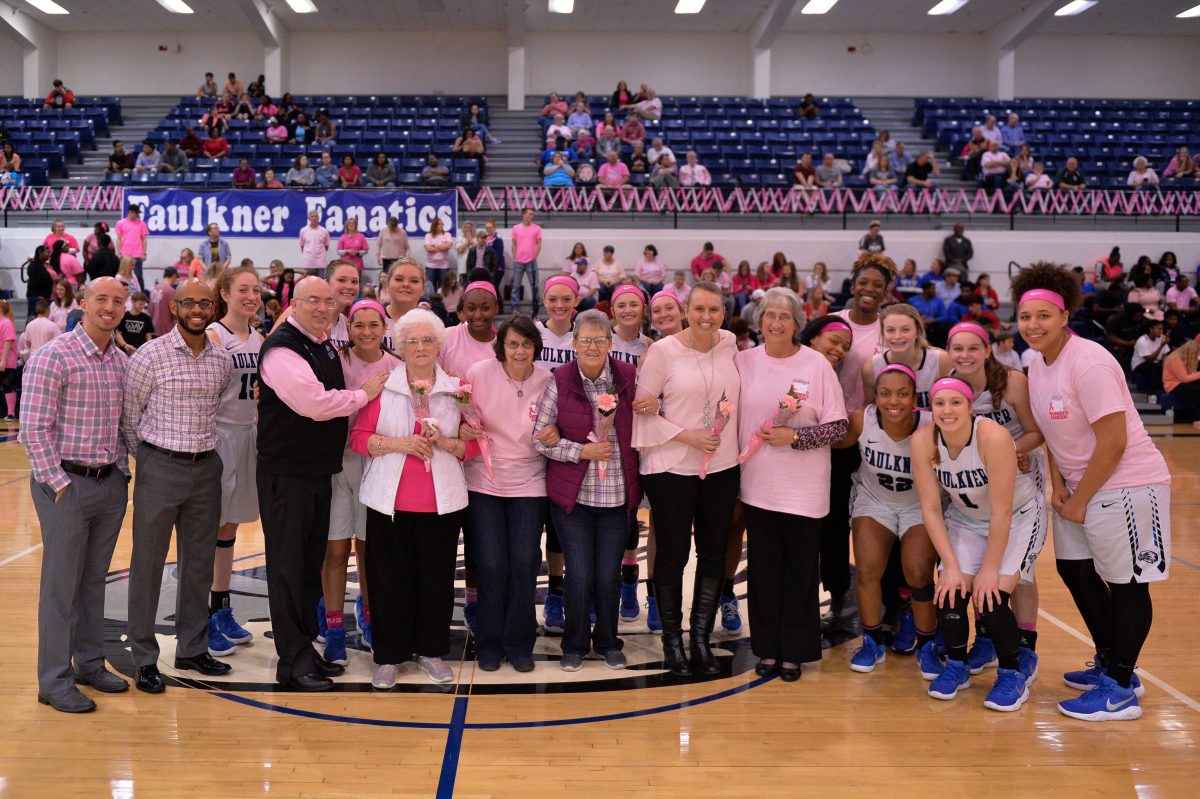 The Faulkner Women's Basketball program has a created a culture of support for local breast cancer survivors and breast cancer awareness through fundraising for the Kay Yow Fund, volunteer opportunities with Joy to Life, and connecting with survivors through Women of Hope.
Nine times in the last ten years, the Faulkner Women's Basketball program topped the charts of NAIA schools donating to the Kay Yow Cancer Fund, raising the most money of any participating university. The Kay Yow Cancer Fund, a 501(c)(3) charitable organization committed to the fight against all cancers affecting women was established in 2007 by 22-year cancer survivor, Coach Kay Yow.
"You have been catalysts, extending hope to survivors, raising money for life-saving cancer research, and providing access to quality cancer healthcare for underserved women. To date, with your help, the Kay Yow Cancer Fund has awarded $7.78 million," said Stephanie Glance, CEO of the Kay Yow Cancer Fund. "To the cancer warriors in attendance: We are inspired by YOU! Your strength and courage propel us to have a quality of spirit that enables us to face difficulty without fear. You lift us up so we can lift others up. You are not alone in this fight, and we want you to know we are beside you always."
Support for those battling cancer is a year-round endeavor for the Lady Eagles. Along with Coach Reed Sutton, the team attends the Women of Hope (WOH) Support Group meetings to develop relationships and mutually encourage breast cancer survivors. Founded by Maria Ashmore, WOH seeks "to educate, promote awareness, and provide hope and encouragement for individuals and families coping with breast cancer."
WOH offers support group meetings each month, free of charge to all breast cancer patients, survivors, caregivers, family members and friends where they can hear from physicians, speakers on health, nutrition, exercise and personal stories from survivors.
Additionally, Sutton and the Lady Eagles act as the hands and feet for Joy to Life and volunteer annually at its Walk of Life fundraising event.
Joy to Life was founded in 2001 by Joy Blondheim, a breast cancer survivor and her husband, Richard Blondheim. Together, they have dedicated their time and efforts to women who are fighting to win the battle against breast cancer and provide mammograms to women who do not have private insurance and cannot afford mammograms.
To learn more, about these organizations, visit www.kayyow.com, www.thewomenofhope.com and www.joytolife.org.