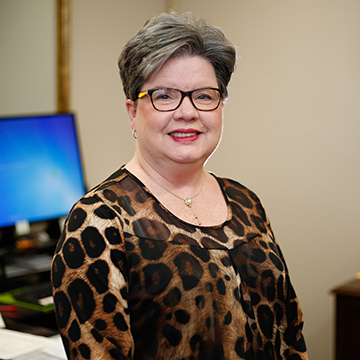 For the past fifteen years, Loye Moorer has diligently worked in the office of the Vice President for Finance at Faulkner until she officially retired from her position in December 2021. During her time at Faulkner, she was known to bring joy to both her colleagues and students, and she has one of the biggest hearts for service.
Moorer has been connected to Alabama Christian College, now Faulkner University, for over thirty years and has enjoyed watching the university grow and thrive. She first began her career at Faulkner University in August 1995 where she worked part-time in the curriculum lab in the Department of Education, now called the College of Education. Before her departure in March 2000, she also spent time serving in the library at the Jones School of Law and with Dr. Cecil May in the College of Biblical Studies.
In 2007, Moorer returned to Faulkner University where she began her new position in the office of the Vice President for Finance. As she fondly remembered her time at Faulkner University, Moorer said, "I enjoyed the daily interaction with other employees whether it be business related, chapel, our 'lunch bunch,' or just catching up when we passed in the hall. It's like one big family!" 
One of the highlights of Moorer's career was forming relationships with her students. She always looks forward to hearing from her former students and keeping up to date with them through social media. "Seeing their accomplishments and their families grow is the highlight of checking Facebook daily!" she said.
Even though Moorer has moved on from Faulkner University, she said she will always cherish the relationships and friendships she has made with her co-workers and students. In her retirement, Moorer looks forward to having more time to travel and read.