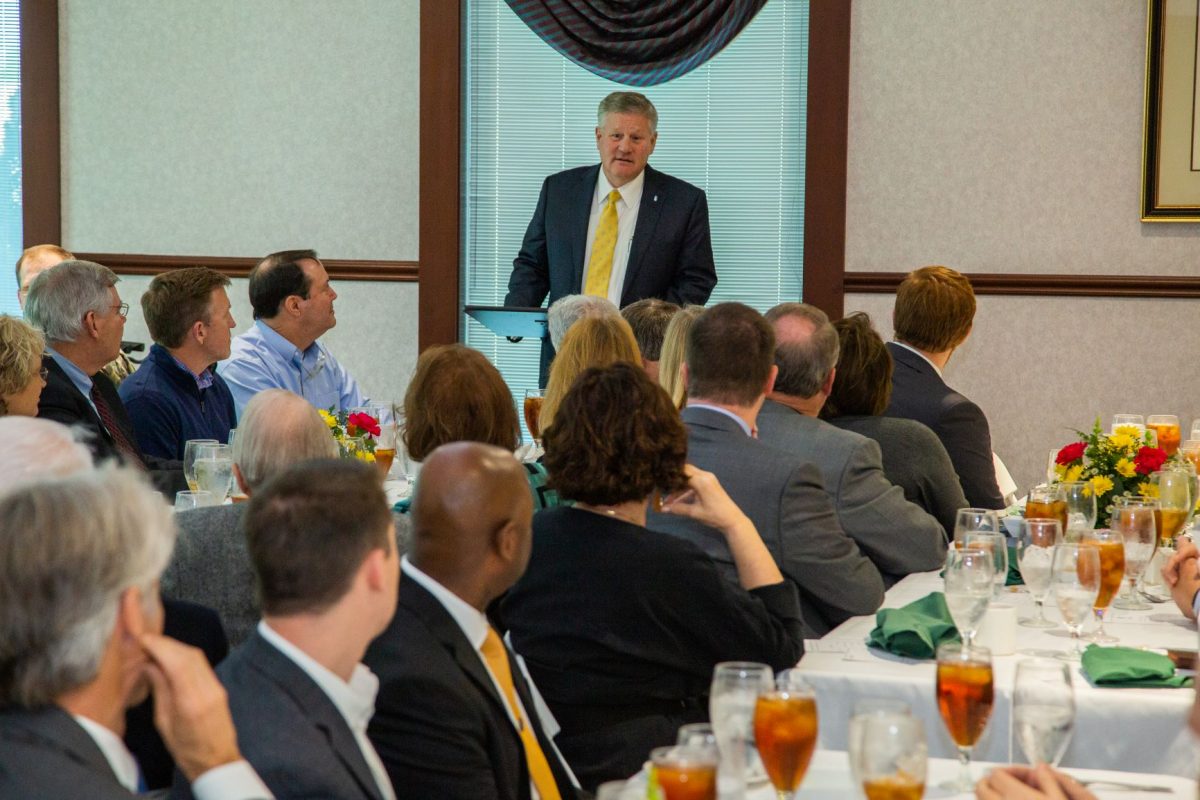 More than 70 business men and women, local leadership and Faulkner faculty and staff who help make up the President's Circle were honored for their generous support of Faulkner University at an annual luncheon on February 27.
The event allowed those who are a part of the President's Circle a chance to talk directly with Faulkner University President Mike Williams, ask questions, share concerns and have their voices heard.
Those who give $1,000 or more over the course of one year are automatically a part of the President's Circle and a part of the conversation.
There are no dues or obligations to join. It is simply a conduit for President Williams and University leadership to inform members about exciting new achievements, events and developments happening at the institution. Likewise, the President's Circle allows members to directly communicate their opinions, ideas or concerns with the president.
"Our investors are people who believe in what a Faulkner education can do," Williams said. "Some of our investors make contributions of ten dollars a month or less with a note to the president that says, 'I hope this helps.' Some of them make large investments in our new College of Health Sciences and when they are thanked for their gift say, 'It's an honor to give.'"
"I'm thankful because I realize there are people like you who are pouring into our students who believe in what they can accomplish. The President's Circle includes those who invest in strangers knowing their investments will make a significant different in the kingdom of God and communities all over the world."
The contributions of the President's Circle pour into students like business major Ross Whisenant, who spoke at the luncheon to thank guests for their support.
"I came to Faulkner because it was like no other college I had visited before. Immediately I saw how people here cared about me," he said. "My admissions counselor still talks to me like I am his best friend. People would check up on me and just chat with me to see how I was doing. Faulkner had that quality I was looking for and I knew that personal attention was what would help me thrive."
"My teachers have gone the extra mile and take every opportunity to show me how I can apply my learning in a real world setting. I know I can call them anytime for help and they care about my success beyond the next test."
"That's what Faulkner has been to me. Thank you everyone for your contributions to Faulkner. It's not only meant a lot to me but it's meant a lot to every student here."
For other ways to give, visit www.faulknerheritage.org