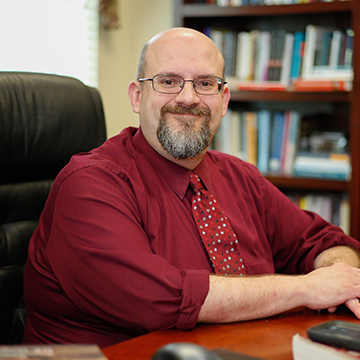 Dr. Todd M. Brenneman was selected as the new Dean of the V.P. Black College of Biblical Studies after Dr. Scott Gleaves stepped down from serving as dean at the end of the spring 2021 semester.
Brenneman began his new role as dean on August 6, 2021.
"I am excited for this new opportunity. The college is a vital part of Faulkner University's aspiration to be a leading Christian university. I see this as a great challenge filled with tremendous opportunity," Brenneman said. "The V. P. Black College of Biblical Studies touches the lives of all Faulkner students in a variety of ways. It represents what Faulkner was, is, and can be. I look forward to building on the excellent work of previous deans and taking the college to greater successes. Knowledge of and love for the Word of God is important now, just as it has always been."
Brenneman previously served as undergraduate department chair of Bible and professor of Christian history in the V. P. Black College of Biblical Studies and the Kearley Graduate School of Theology. He received a master's degree in Christianity from Harding University Graduate School of Religion (now Harding School of Theology). He also received a master's degree and Ph.D. in American religious history from Florida State University.
Brenneman is the author of Homespun Gospel: The Triumph of Sentimentality in American Evangelicalism (Oxford University Press, 2014) and additionally has written book chapters on children and religion, as well as, book reviews in journals like Church History: Studies in Christianity and Culture, the Journal of American History, the Journal of Southern History, and others. His teaching and research interests are the study of the history of Christianity (particularly in the United States), religion and emotion, religious thought, and children and religion.