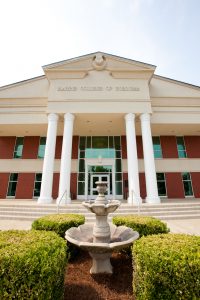 MONTGOMERY, Ala. — Faulkner University was recently ranked among the top in the nation for having the best online Master's degree program in justice administration from a private, nonprofit university.
The ranking through The Best Master's Degrees, ranked Faulkner first in Alabama and 10th nationwide out of 30 schools for its criminal justice degree plan based on "regional accreditation, ranking from major publications and raw affordability."
"We are thrilled to see our Criminal Justice department gaining national attention," said Mark Hunt, associate vice president of Executive and Professional Enrollment at Faulkner University. "We're proud of the level of expertise and rigorous curriculum we can offer students through our online programs to better prepare them for future career opportunities."
Faulkner University offers a completely online Master's in justice administration designed for college graduates or professionals looking to advance their current careers. The program consists of ten online courses that each run five weeks in length.
Students take one class at a time and may complete the degree in just 14 months. Some of the required courses include administration of justice, comparative criminal justice, corrections, justice writing, law and justice and policing in America. Admission to the program requires an applicant to hold a bachelor's degree from a regionally accredited college or university with a minimum GPA of 2.5 or better.
Faulkner is also ranked by U.S. New and World Report as the 106th best regional university in the South. In addition, the school's online graduate criminal justice programs are ranked 20th out of more than 1,200 surveyed programs.
The full list can be found at bestmastersdegrees.com