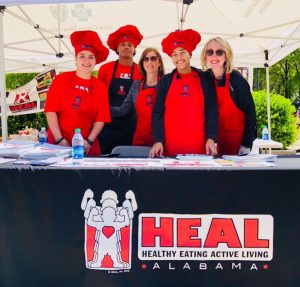 Faulkner University will be joining forces with HEAL Alabama to promote healthy living at this year's National Walk @ Lunch Day on Friday at the Capitol.
The National Walk @ Lunch Day is sponsored and facilitated by Blue Cross and Blue Shield of Alabama each year to promote healthy exercise.
Dr. Donna Clemons, the chair of exercise science and kinesiology at Faulkner, is working with HEAL Alabama's founder Christy Swaid in developing HEAL activities on campus and getting students and faculty involved. The walk is just one example.
"Faulkner University is excited to be a part of a variety of fun and engaging exercise classes for all shapes, sizes and fitness levels," Clemons said. "Our goal is to be relevant so education actually translates into real-lifetime behaviors.
"We are especially thrilled to partner with HEAL and engage with our community during the National Walk at Lunch Day."
Free and open to the public, Walk will take place downtown Montgomery on the South Lawn of the Capitol Building at 10 a.m. There will be three scheduled walk times at 10:30 a.m., 11:30 a.m. and 12:30 p.m.
In a continued effort to reach out to the community, Faulkner University kicked off it's partnership with nonprofit HEAL, or Healthy Eating Active Living, this fall as a way to help college students, faculty, staff and the River Region community benefit from an active lifestyle and healthy diet.