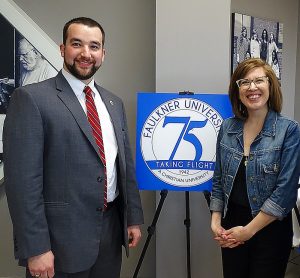 Annie Butterworth Jones found a way to share her love of books by opening her own book shop just a few years after graduating from Faulkner University.
She graduated from the Great Books Honors College at Faulkner in 2007 with a degree in liberal arts and an emphasis in journalism and soon made an exciting investment in a quaint bookshop in downtown Thomasville, Georgia, the town where she now resides.
A lover of literature, books have held a strong place in her heart, and after spending a few years as a writer and editor at the Florida Bar directly after graduating, she took over The Bookshelf, an independent bookshop. She now talks with fellow readers about books every day and helps to create a safe, welcoming space for people of all walks of life. She also posts a weekly podcast where she talks about books, Southern culture and more.
While at Faulkner, Jones was the school's first editor-in-chief of the student-newspaper, The Spire. It was also here that she found a safe place to explore her Christian faith, ask questions and strengthen her relationship with Christ to better prepare her for the workplace and her mission to shine Christ's light.
"I'm grateful my Faulkner professors emphasized the importance of thoughtful, difficult conversations and their power to build bridges and establish commonalities between people of differing opinions. Those skills have proved invaluable in my roles as first employee and now a boss," she said.
"It's a privilege to use my degree in ways I never thought I would. To converse daily with fellow readers about the books I love and to be a part of such a vibrant local community and economy."
"I also believe God sometimes gives us beyond what we could ask or imagine, that He knows us intimately and that He honors the desires of our hearts. The opportunity to own The Bookshelf practically fell out of the sky and each of my previous work experiences – including the various roles I played at Faulkner- prepared me for living me dream as a bookstore owner."
Jones is married to her husband Jordan Jones.