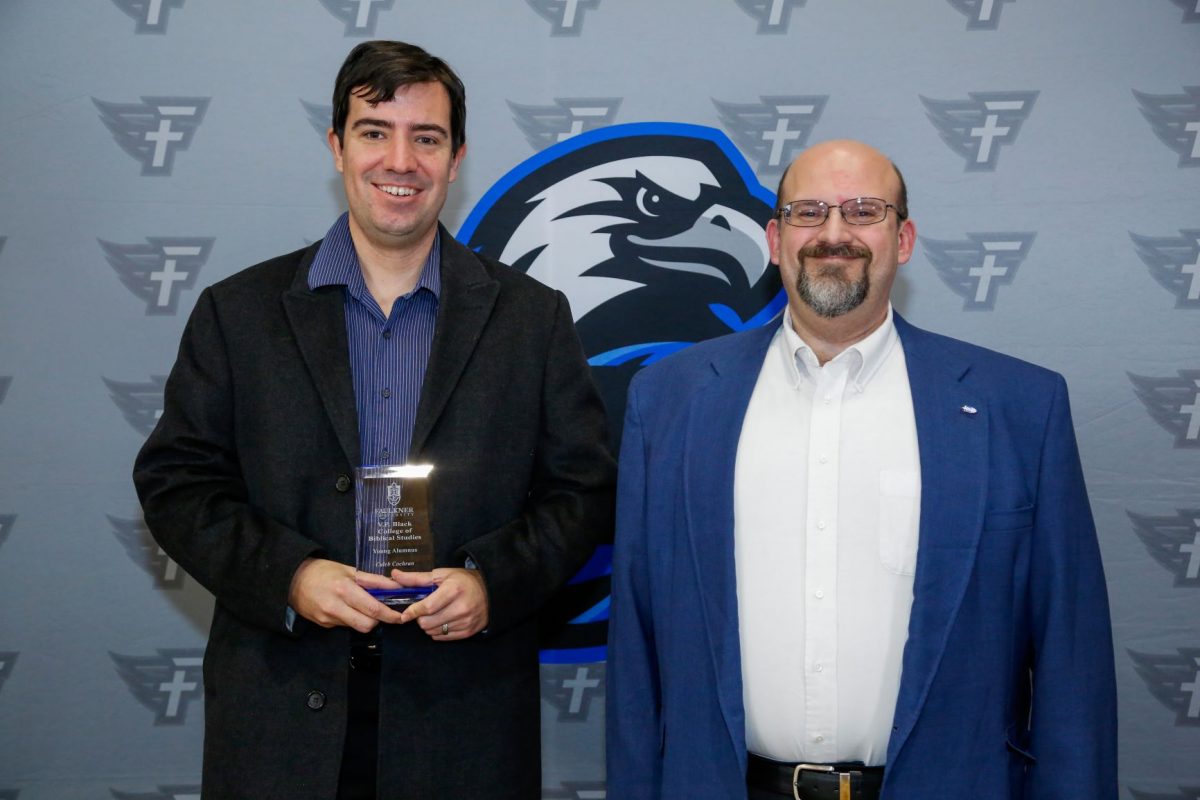 Caleb Cochran intended to study math when he arrived at Faulkner as a student, but when he began his classes, he was drawn to the Bible department and ministry instead.
"I was drawn to the Bible curriculum," Cochran said. "With the help of my professors, I was putting together pieces I never had before and was compelled to train for ministry. So I'm obviously thankful for the curriculum of the School of Biblical Studies and the training I received in how to study the Bible and communicate it to others."
Cochran was honored as the Young Alumnus for the V.P. Black College of Biblical Studies at the 2021 Marketplace Faith Friday Forums.
Cochran graduated with a Bachelor of Arts in Biblical Studies in 2008 and later with a Master's in New Testament Studies. He wrote his master's thesis on masculinity in the Pauline Corpus.
"Faulkner was so much more than just the Bible curriculum. A Christian worldview is integrated into every field of study, so my classes in history, in literature, in science, and other fields all contributed to a holistic, interdisciplinary appreciation for the Creator," Cochran said. "Additionally, Faulkner gave me an opportunity for strong peer friendships rooted in Christ. Many of these friendships continue to sharpen me in my walk with Jesus to this day."
His professors also became personal mentors and friends to him during and after graduation. Many of whom he keeps in contact with today to grab a bite to eat or to consult with long-distance when a challenging question arises at work, he said.
"Through the teachings and the lives of my professors, I saw that faith and academy can walk hand in hand. I learned what to read and how to get the most out of each book I read," Cochran added. "My professors at Faulkner taught me that education never stops, and I still draw upon their work and the methods they taught me for further study."
"They have listened to me share personal struggles and have shared some of theirs with me in turn. Their faith, their scholarship, and their friendship all mean the world to me."
After graduation, Cochran worked as a youth and family minister in Tuscaloosa for three years and for seven years was the preaching minister in Rockville, Maryland. In January 2021, Cochran was hired as the preaching and outreach minister with the College Avenue Church of Christ in Enterprise, Alabama.
There he preaches weekly sermons, develops Bible curriculum, teaches and builds relationships with church members, conducts chapel with Wiregrass Christian Academy, and reaches out to his community through a variety of ministry outreach efforts.
Cochran has been married to his wife Maranda for nine years and they have two children.