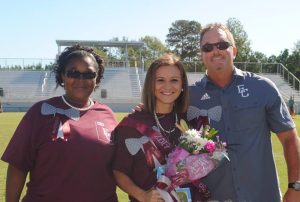 Mary Lawless Jones' dropped her camera on the football field in shock when they called out her name.
The Faulkner University graduate was named Elmore County High School's Teacher of the Year.
Jones was first called out to the football field earlier this fall to take pictures of the school's homecoming and the person who would be crowned Teacher of the Year. Little did she know the award would go to her.
"The announcer said my name and I just dropped the camera very surprised and I don't know why, but I was crying," Jones said.
It was an emotional moment and one that was well deserved, said Principal Wes Rogers.
"She has been such a blessing to us since she came here," Rogers said. "Right away when she interviewed for a teaching position, I knew she would be a great fit.
"She has great repore with her students, has made those connections and those relationships and is very involved in our school. We're fortunate to have her."
When Jones is not training her classroom's favorite black service dog, Mason, teaching English, helping students plan community service projects, coordinating the school's yearbook staff or taking pictures of school events, she is at home raising a young family.
A mother of two, Mary is married to Millbrook City Councilman Justin Jones, who is also a Faulkner graduate. Still in her 20s, Jones has her hands full.
Jones teaches 9th grade English, is the teacher sponsor for the Christian student-led organization, First Priority, sponsors the schools' Key Club, which allows students to organize community service projects, helps lead the yearbook staff and takes care of the school's service dog, which helps relieve students' stress and anxiety.
This year her efforts were rewarded after her coworkers nominated her for Teacher of the Year.
The award is given every year to a deserving teacher at each public school in Alabama for not only their work in the classroom, but for the extra hours they put in every day. Jones will go on to compete at the county level and an announcement on who will be progressing to the state level will be made in January.
"It's exciting and a surprise to get that award," said Jones. "We have such amazing teachers here and so many who deserve Teacher of the Year. It was not expected, but it was very nice."
Jones graduated from Faulkner in 2012, interned for Elmore County Public Schools and taught with Coosa County Schools before she was hired in 2013 by Elmore County Public Schools.
"We always joke that Elmore County High School is the Disney World of Alabama high schools because it's just that great," Jones said. "I'm very blessed to be here and you can't find any better people than you find here in Eclectic."