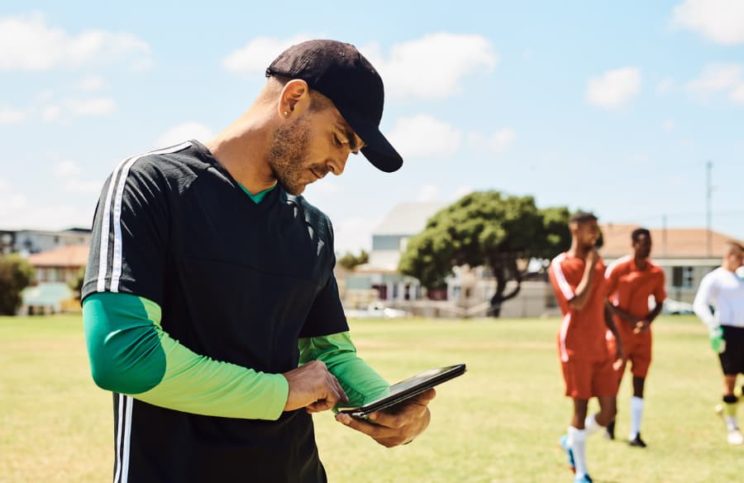 A sports psychology degree provides a flexible pathway to a variety of fulfilling careers for those who love sports and fitness. At Faulkner University, students who prefer a traditional learning environment have a choice of campus locations for obtaining a Bachelor of Science degree in Sports Psychology, with programs in Montgomery, Birmingham, Huntsville, and Mobile. A fully online sports psychology degree program is also available, as well as hybrid options that combine both online learning and on-campus settings. Gain the confidence and expertise you need for an exciting career in sports psychology at our Christian liberal arts university in Alabama.
Sports Psychology Degree Career Paths
With a Bachelor of Science degree in Sports Psychology, students are prepared for careers in athletics, medical research, health care, education, and the fitness industry. Additional opportunities exist in the performing arts and providing care for a variety of populations, including the aging, people living with disabilities, military veterans, and people in prison.
Here are just a few job titles held by our graduates:
Physical rehabilitation assistant
High school athletic counselor
Head or assistant coach
Training team member
High school academic advisor
Exercise program assistant
Sports Psychology Degree Curriculum
The Bachelor of Science degree in Sports Psychology requires a total of 121 course hours. With many electives available in our undergraduate catalog, it is possible to customize the degree program to reflect students' interests and career goals. With a bachelor's degree, graduates are prepared to pursue advanced degrees in psychology, such as a master's degree or doctorate in sport and performance psychology.
Core Curriculum (50 hours)
Christian Literacy: 18 hours

Biblical Worldview I: 3 hours
Biblical Worldview II: 3 hours
Understanding the Biblical Literature: 3 hours
Christian Ethics: 3 hours
Marriage & Family: 3 hours
Christian Cultural Heritage: 3 hours

Cultural Heritage Literacy: 9 hours

Western Tradition I or Great Books III: 3 hours
Western Tradition II or Great Books IV: 3 hours
American Cultural Heritage: 3 hours

Mathematical and Scientific Literacy: (7 hours)

Finite Mathematics or higher match: 3 hours
Perspectives of Biology/Lab: 4 hours

Information and Communication Literacy: 9 hours

English Composition I or Great Books I: 3 hours
English Composition II or Great Books II: 3 hours
Literature Requirement: (Choose one of the following)

EH2301, EH2303, EH 2304, GB 3301: 3 hours

Personal and Social Literacy: 9 hours

Lifetime Fitness: 3 hours
Faulkner Foundations: 1 hour
Introduction to Psychology: 3 hours

Professional Literacy: 53 hours
Departmental Major Field Requirements: 29 hours

Introduction to Counseling: 3 hours
Seminar-Foundations in Psychology: 1 hour
Seminar-Special Topics in Psychology: 1 hour
Seminar-Readings in Psychology: 1 hour
Seminar-Senior Seminar in Psychology: 1 hour
Developmental Psychology: 3 hours
Behavioral Statistics: 3 hours
Research Methods Lab: 1 hour
Research Methods: 3 hours
Social Psychology: 3 hours
Psychology of Religion & Spirituality: 3 hours
Internship: 3 hours
Capstone Research Project: 3 hours

Sports Psychology Degree Requirements: 12 hours

Theories of Human System Dynamics: 3 hours
Sports Psychology: 3 hours
Physiological Psychology: 3 hours
Psychology of Leadership and Motivation: 3 hours

Sports Psychology Electives (Choose any four): 12 hours

Drugs and Society
Counseling Skills
Substance Abuse
Conflict Management
Group Dynamics
Behavior Modification Theories
Health and Rehabilitation Psychology
Performance Management and Appraisal
Industrial-Organizational Psychology
Individual and Dual Sports
Team and Recreational Sports
Kinesiology
Health Education
Motor Learning
Physiology of Exercise
Prevention & Treatment of Athletic Injuries I
Theory & Practice of Personal Training
Group Fitness theory and Practice
(or another related course approved by advisor)

Electives: 18 hours

Free Electives (any advisor-approved courses or transfers)
Extracurricular Programs for Sports Psychology Majors
Students can join the Faulkner University Psychology Club, where advisors and students learn about new developments in the field and network with psychology professionals. More information is available on the group's Facebook page.
Students who meet the academic requirements may be eligible for lifetime membership in the Psi-Chi Honor Society, a professional organization with a chapter at Faulkner University.
Prepare for Careers in Sports Psychology at Faulkner University
Take your love of sports and fitness to the next level in a career that allows you to help sports teams and individual athletes, as well as people from all walks of life. Learn about motivation, mental health, and coaching techniques and find out where you fit in the exciting field of sports psychology. Whether you choose a program on-campus, online, or a hybrid of the two, you will be welcomed to a community based on Christian faith and values. Want to find out more about Faulkner University in Alabama? Apply now or request more information today.