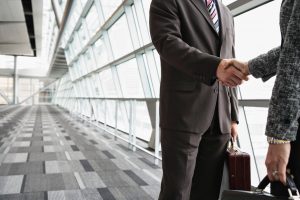 In today's fast-paced business world, the doors to success can open and close in an instant. Many people realize that an education provides the keys to these doors, but simply don't have the time to attend classes at a local university. An online MBA from Faulkner University is the perfect option.
What Can I Do With an Online MBA?
A business degree is one of the most versatile and broadly applicable graduate degrees available. The art of business is bringing people together, and online MBA programs teach students how to leverage both financial and human capital to maximize return. This primes students for careers in a broad range of fields. Online MBA program graduates regularly go on to careers in accounting, finance, human resource management, retail, and sales. Some bring their skills to careers in media, advertising, and marketing. Whatever their field, an MBA gives students the education and skill set necessary to manage and lead.
In addition to working in more traditional careers, an MBA offers an excellent springboard for students to start their own businesses. Small businesses are the backbone of the American economy. Though interest rates are on the rise, they are still low enough (for now) to encourage borrowing to get startups off the ground. For people who wish to be their own boss, whether as a restaurateur, record producer, or realtor, an understanding of finance, accounting, and management can greatly improve their chance of success.
The Online MBA Program
Faulkner University provides a top-ranked online MBA program. The University's rich history and Christian ideals provide students with a solid base. That tradition and network includes strong alumni support that can help open doors for students in ways other online business degree programs cannot.
A business degree is the first step to a more rewarding and exciting career. Enroll in Faulkner University's online MBA program today, and take that next step.Posted in: Graduate News, Online News