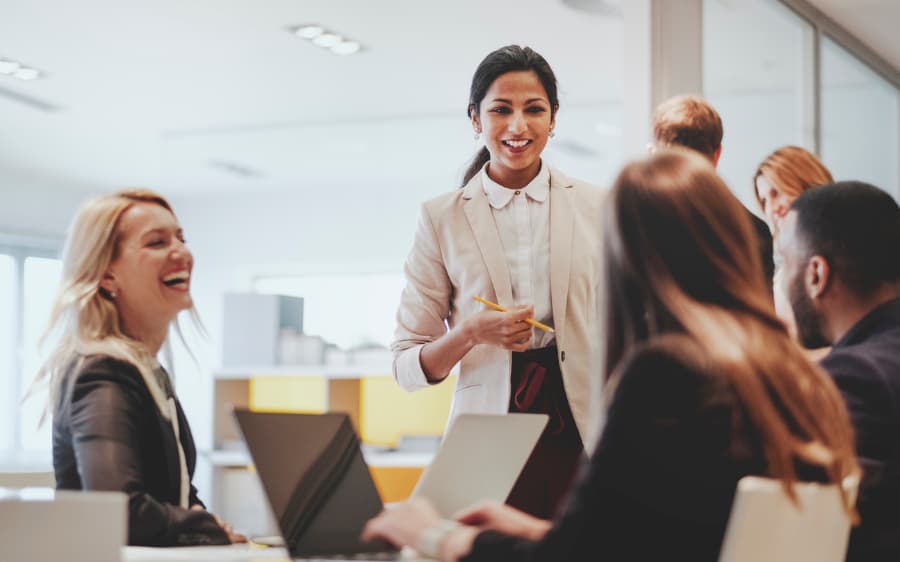 If you're considering a degree in HR, you likely already appreciate the value of effective communication and person-to-person interaction in the workplace. Both skills are essential to success in human resources, and if you're hoping to break into this fast-growing, in-demand field, it's time to start developing your top-priority HR skills. Faulkner University's online Bachelor's Degree in Human Resource Management prepares graduates to enter a career in HR after just one year of study following core requirements. Here are some of the top skills Faulkner students develop throughout the program and translate into successful HR careers.
Clear Communication
The day-to-day responsibilities of HR make the ability to communicate effectively particularly important. You'll be one of your coworkers' go-to resources for everything from the personal to the professional, and you'll work on a wide variety of internal affairs, including recruiting new talent, resolving disputes, and informing employees of company changes. Balancing the needs of multiple parties and acting as an intermediary between them requires an advanced set of communication skills. Faulkner's online degree program will prepare you for the responsibilities and challenges of speaking on behalf of coworkers and representing your company. With targeted assignments and collaboration with professors and peers, you'll learn to cut through potential areas of confusion and present the clearest, most accessible set of resources to your company's employees.
Organization
With all the different tasks HR professionals must take on, organization and time management are high-priority skills for job candidates. Managing deadlines and coordinating your schedule around frequent meetings are common challenges in human resources. Staying organized and working efficiently will not only carry you to success while pursuing your degree but also set you up to excel afterward. By balancing your other responsibilities with your education, you'll prepare yourself for the life of an HR professional and demonstrate these skills to potential employers.
Decision-Making
HR is often responsible for proposing and making decisions that affect your company and the lives of employees. If you don't shy away from taking on responsibility and making tough decisions, you might have some of the top-priority skills many employers look for in HR candidates. A position in human resources requires someone who can analyze an issue and present a solution. Employee disputes may involve facilitating compromises, and recruitment often requires you to evaluate and decide on job candidates.
Interpersonal Skills
Your ability to relate to others on an interpersonal level will form the basis of your ability to effectively communicate with them, making this a must-have skill in the industry. Other employees look to HR for support, and you'll only be able to communicate with them effectively if you've developed your ability to empathize and understand situations from multiple perspectives.
A major asset in one-on-one conversations and conflict resolution between parties, your interpersonal skills will also inform your ability to uphold ethical standards in your workplace and ensure all employees have equal opportunity to succeed. If you have well-honed listening skills and a passion for helping others, you'll find earning a degree in HR particularly rewarding as you take those talents and refine them for the professional level.
Advance Your Skills Today
Ready to develop your skills? Pursue your online degree in human resources and take your talents to the next level. Faulkner University's course of study offers academic excellence on a flexible schedule to help you find your future in HR. Contact us to learn more about how a faith-based education at Faulkner University could propel you to career success, or apply now to get started.