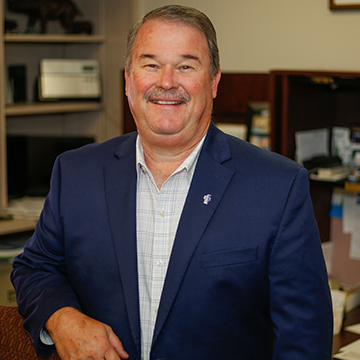 For Joey Wiginton, fostering a relationship with Faulkner's graduates doesn't begin the moment they step off the stage with their diploma. It begins with their first step on campus.
While most alumni offices focus on getting to know their alumni after graduation, as the new director of alumni relations and regional advancement, Wiginton and the alumni and advancement office are working to get to know Faulkner's graduates while they are still freshmen, sophomores, juniors and seniors.
"We want to be visible to our students from day one when they come on campus," Wiginton said. "To do that, we're very involved in campus events including Homecoming and Marketplace Faith Friday Forums and being visible at events all year long."
Wiginton and Robin "Bird" Bradford are making the effort to greet students at every opportunity. That means collaborating with the admissions office and student life to be at student activities throughout the year and events at high schools and youth rallies all year long.
What better way to form a bond with Faulkner's best and brightest than in the very beginning of their college journey? Fostering those relationships early will build trust and longevity in the future.
That's easy to do when you have Wiginton's infectious smile and easy laugh. His positivity, energy and longtime love for Faulkner make him the perfect candidate to fill the director of alumni relations and regional advancement position.
Officially taking the post in 2019, Wiginton has been hard at work implementing the new vision he has for the alumni department. A vision that includes fostering personal connections with alumni all over the state with lunch gatherings and personal visits.
"For a long time in alumni relations, we haven't done the best job in keeping up with our alumni and we want to work harder to support them and keep those relationships strong," Wiginton said. "One of my jobs is to keep in touch with our graduates and alumni and be more involved. One idea is to contact our local alumni and get together for lunch on campus once a quarter and learn from them how we can serve them and become better partners together."
Meeting with alumni throughout the state on a regular basis would also allow alumni to voice their opinions and make suggestions on not only alumni relations but university matters as well.
Where does Wiginton get his drive? Not only is Wiginton an alumnus himself, he's a proud father of five Faulkner graduates and has worked at Faulkner for 36 years. He's held roles in Admissions including director, he's served in student life, athletics, and as vice president prior to his current role.
He's seen the children of students he once recruited to come to Faulkner as students themselves. Becoming more involved with campus events for Wiginton means creating activities with a purpose where alumni can bring their children and grandchildren to and generate excitement in Faulkner's future generations.
"There's never been a time when I was more excited for the future of Faulkner than I am right now," Wiginton said. "With our recent plans to build the College of Health Sciences into the old Burlington store, we are moving in an exciting direction for Faulkner and this city."