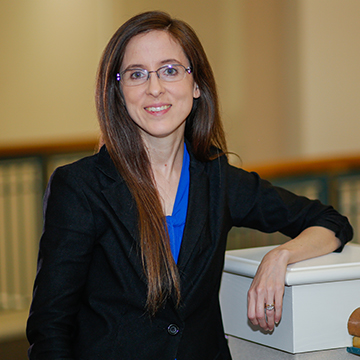 MONTGOMERY, Ala. – University leadership will appoint Dr. Leah Fullman as Interim Dean of the University's College of Health Sciences on June 1.
Fullman was the University's first hire in August 2016 in the health sciences, and spearheaded the development of the two existing health science offerings: the BS in Communication Sciences and Disorders and the MA/MS in Speech-Language Pathology.
Dr. Leah Fullman is Department Chair for Speech-Language Pathology at Faulkner University. She earned her Bachelor of Science in Liberal Arts at California State University, Master of Science in Communication Disorders and Sciences at Southern Illinois University, and Doctorate of Science in Speech Language Pathology at Rocky Mountain University. She is a licensed speech language pathologist with research and clinical expertise in treating medically fragile children who have complex feeding/swallowing disorders and children with craniofacial anomalies.
She serves in her professional field as a peer reviewer for medical journals and member of the Health Science Steering Committee for the Christian Scholars Conference. She has worked as an accreditation consultant for universities developing new undergraduate and graduate programs in the health sciences and as a legal consulting expert for cases within her scope of practice.
Her husband, Dr. Joshua Fullman, is Director of the Institute of Faith and the Academy and teaches courses in the Great Books Honors Program, Department of English, and Department of Humanities. They share three children: Judah, Ezra, and Malachi. She and her family worship at the Grace Pointe Church of Christ where they are actively involved in the children's ministry, youth group, and college class.
"In the ensuing years since her initial hire, it became readily apparent to us that we needed to look no further than Dr. Fullman to fill the role of dean in the College of Health Sciences," said Dr. Dave Rampersad, Vice President of Academic Affairs. "She possesses an exemplary work ethic, exhibits sound temperament and judgment, works collaboratively across divisions, and is well-liked and respected by her colleagues. We have the utmost confidence that the college is in good hands and I look forward to our partnership in this critical and needed work."