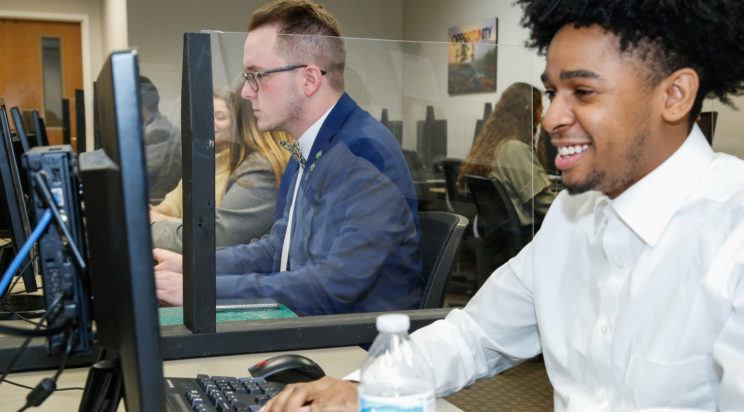 Prepare yourself to excel in both computer science and business with a Bachelor of Science in Management Information Systems at Faulkner University. With courses taught through the Harris College of Business & Executive Education at our Montgomery, Alabama, campus, the Management Information Systems program is designed to connect the worlds of business and technology, preparing students for in-demand careers.
Our Unique Program Objectives
At Faulkner University, we strive to incorporate a distinctly Christian perspective on ethical, business, and information systems challenges in the modern workplace. Additionally, our Management Information Systems (MIS) program seeks to offer students unique professional tools by:
Providing exposure to common business disciplines
Offering experience using sophisticated application software to collect, manage and analyze data
Acquiring programming skills in one or more languages
Analyzing and designing systems
Developing oral and written communication skills appropriate to a business environment
Preparing the student to make strategic decisions specifically within the information systems context for business entities
Management Information Systems Pre-Requisite Courses
Through the MIS program, our goal is to prepare students for careers with a comprehensive understanding of business computing concepts. We believe a strong foundation of literature, communication, and mathematics is required to help provide a greater understanding of today's business and technology challenges. Subsequently, our well-rounded pre-requisite courses are focused in the following areas:
Christian Literacy
Cultural Literacy
Communication/Information Literacy
Mathematical and Scientific Literacy
Personal and Social Literacy
For more information about program requirements, please see our undergraduate catalog.
Core Professional Component Courses and Major Field Requirements
In combination with pre-requisites, our core professional course offerings will help further your understanding of computer science applications specific to business settings.
Core Professional Component
These courses help to equip students with a broad range of essential skills within business settings and include options such as:
Computer Applications
Principles of Accounting I
Principles of Accounting II
Microeconomics
Business Mathematics
Business Communication
Business Statistics
Quantitative Business Analysis
Legal Environment of Business I
Business Policy & Strategy
Principles of Marketing
Principles of Management
Principles of Information Systems & Technology
Managerial Finance
Major Field Requirements
These comprehensive courses aim to prepare students for a broad range of essential functions within an information systems environment and include requirements such as:
International Management Perspectives
Data Management
Network Management
E-Business and Web Analytics
Web Page Architecture
Choice of MIS Elective Course
Students will also gain real-world experience with an internship or project in MIS. A total of 122 hours is required for graduation through our professional components, major field requirements, general electives, and pre-requisite courses. More information about course numbers, hours, and other details can be found in our undergraduate catalog.
Obtain Your B.S. in Management Information Systems with Faulkner University
Modern business has demonstrated a great need for professionals who can expertly analyze, create, communicate, store, retrieve, control, and dispose of data. With a Bachelor of Science in Management Information Systems, you can master the data management, business, and other concepts necessary to stand out in today's workforce. To take the first steps toward your degree, apply online today.
Located in Montgomery, Alabama, with campuses in Mobile, Birmingham, and Huntsville, Faulkner University offers a close campus community with a diverse assortment of degree programs and educational opportunities, all with a distinctly Christian worldview. To learn more, request additional information about our campuses and programs.